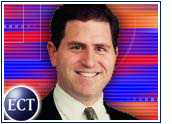 Dell Computer Corp. unveiled on Tuesday a wide range of new online services geared toward small and mid-sized businesses, including Dell-branded Internet access, e-mail and purchasing services.
The launch is seen by many observers to be an attempt to offset shrinking margins on PCs, but the Round Rock, Texas-based company is merely matching similar services that are already being offered by such rivals as Compaq Computer Corp., Gateway, Inc., Hewlett-Packard Co. and IBM.
Add-On Services
Director of new-business development Jeff Hamlin said the company's new offerings are a natural offshoot of its attempt to help small businesses venture into e-commerce by opening an online store to promote their goods or services.
"We realized there was a bigger chunk of the market looking to do other things," Hamlin said in published reports.
In fact, more than 2,000 businesses have signed on to its DellHost program since February. The price ranges for the program are attractive to small and mid-sized businesses: $17.95 (US$) per month on a shared server and starting at $249 per month on a dedicated server.
Procurement Marketplace
Dell will now be offering small and medium-sized businesses a number of services, including outsourced procurement, direct-mail programs, payroll and accounting services, according to Hamlin.
Additionally, Dell will expand its communications services and create a business-to-business (B2B) marketplace where companies can purchase everything from furniture to cleaning supplies. The marketplace is expected to generate more revenue for Dell, because the company will share in the fees paid by businesses that use the procurement services.
"A small business only buys one Web site from you," Hamlin said. "Whereas a number of people in a business are buying goods all the time."
Closely held Works.com of Austin, Texas is providing the procurement-automation services and its 400,000-product marketplace for Dell. Works.com CEO Bo Holland said that Dell's E-works Web site will begin offering its services Tuesday.
Dell is also partnering with Chicago, Illinois-based Digital Works.com to provide direct-mail services for its small to medium-sized business customers.
Looking at Wireless Internet
In other news, Dell announced Monday that it hired Moe Grzelakowski, who was a wireless executive with Motorola, to head Dell's new business unit focused strictly on wireless networking. Her initial responsibilities include forging strategic alliances for wireless hardware and services.
"For an increasing number of Dell customers, traditional mobile computing isn't sufficient any longer," said Dell CEO and Chairman Michael Dell.
"They're using wireless technology to harness the power of the Internet remotely. With anticipated near-term advancements in wireless technology — such as greater bandwidth from next-generation cellular systems — demand for wireless Internet access is expected to represent a $10 billion market by 2003," he added.