Dish Network on Monday unveiled Sling TV,its live over-the-top television service, at the 2015 International CES in Las Vegas.
Sling TV will be offered to consumers without a contract, starting at US$20 permonth. It will be available early this year through a variety of devices, including Amazon Fire TV, AmazonFire TV Stick, Google's Nexus Player, Roku boxes, Microsoft's Xbox Onevideo game console, and select Samsung and LG Smart TVs. SlingTV also can be streamed on PCs and Macs, as well as Android and iOSmobile devices.
This new service is not meant to complement Dish Network's existingsatellite pay-TV service. Instead, it is aimed at cord-cutters who seek to break away from traditional pay-TV services by accessing content over the Internet.
"Sling TV provides a viable alternative for live television to theMillennial audience," said Joseph P. Clayton, Dish president and CEO."This service gives millions of consumers a new consideration forpay-TV; Sling TV fills a void for an underserved audience."
Sling's OTT Offerings
Dish Network's Sling TV will deliver live TV including ESPN, ESPN2,TNT, TBS, Food Network, HGTV, Cartoon Network and Disney Channel. It also will offer online video content from Maker Studios. It can be viewed inthe home or via mobile devices anywhere there is a broadbandconnection, including via mobile 4G LTE networks.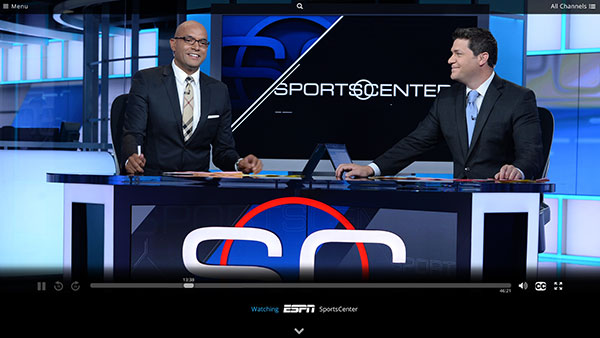 Sling TV's over-the-top service will feature live sports, including ESPN and ESPN2.
The content will be delivered over an IP-based network, and it will utilize an adaptive bitrate streaming technologyto provide high quality video even if there are bandwidthfluctuations.
Viewers will be able to pause, rewind and fast-forward the video.Some channels also will be offered with a 3-Day Replayfeature, which makes programming aired over the past three daysaccessible without the need to record it to a DVR.
For Cord-Cutters and More
Sling TV targets consumers who have cut the cord, areconsidering cutting it, or who never utilized a pay-TV service.
"This is very much aimed at Millennials," said Greg Ireland, research director formultiscreen video at IDC.
That doesn't mean that Dish does not expect some current customers totransition to Sling TV.
"Dish is targeting their subscribers that are considering amove beyond the current model," Ireland told the E-Commerce Times. "In a sense, they arepositioning themselves for a longer term and will have something elseto offer those subscribers."
What's Missing
While Dish's focus is on the channels the service willprovide, the bigger news could be what is not included. Atlaunch, this service will not feature Twentieth Century Fox or Viacomofferings — meaning no Fox or CBS channels. There will be no MTV or ComedyCentral, channels that could be key components for attracting the Millennial demographic.
Sling TV may not be a solution for those who want local live TV either.
"That is a hurdle, no doubt. Whether this issuccessful could revolve around whether Sling TV offers the contentthat Millennials want," noted Ireland. ESPN may not be enough of a draw.
"To be fair, this is in its early stages," he added. "The betterresponse is to applaud them for taking the next step."
The Unbundling Challenge
Dish's announcement of its Sling TV service follows similar movesby CBS and HBO Go last year, offering their services online for a small subscription.
"This is the latest in a number of loud wake-up calls that there is ahuge base — 25 million or more — that are outside the traditional paid-TV subscriber base, and the services are taking note as how to reach them," said Ireland.
Sling TV could prove that it is possible for some pay-TV providers tounbundle their current offerings and provide more tiers of channelofferings.
However, "the traditional pay-TV/content owner [is] going beresistant to unbundling," argued Erik Brannon, senior analyst for theU.S. television market at IHS.
"For every OTT action that is made, it is as close to unprofitable asit gets," he told the E-Commerce Times.
"ESPN is likely givingthis Dish play what Dish has already been paying, with that meaningthat the fee is $5 or so just for that one channel," noted Brannon.
"That is a big chunk of what Dish is able to charge, so the questionis how low Sling TV can really go," he added. "Content owners havebeen unwilling to unbundle — so even with this new move, we may not bethere yet."
On the flip side, Sling TV could offer additional tiers ofcontent, but that in turn would raise the price.
"It starts at $20 — but as you add packages, suddenly the price is backat a level of spend of what you'd spend with traditional services,"explained Ireland. "However, this could still provide choice andalternative to the traditional market. Dish has a jump start, and it islikely other providers will seriously consider it too."