Disney caught the attention of the console video gaming universe on Tuesday with the launch of "Disney Infinity." The new initiative combines collectible real-world action figures with onscreen gaming, following the lead of Activision's cross-platform "Skylanders" franchise.
By leveraging the company's popular movie characters and legendary marketing prowess, "Disney Infinity" has the potential for becoming a serious competitor — as long as the games themselves score points with players.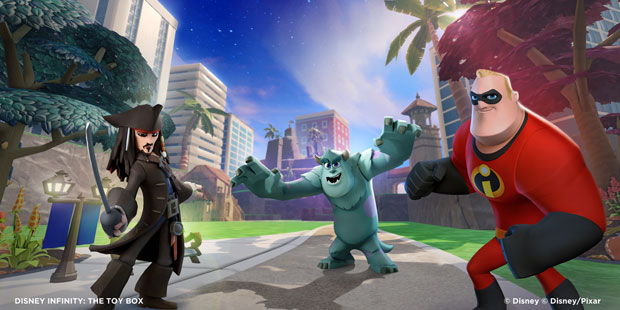 "Disney Infinity" is an all-new gaming experience that gives players unprecedented freedom and endless opportunities to create stories starring beloved characters from Disney and Pixar's most popular franchises.
Many Disney characters have long been staples on the big screen, but now some of Disney's most recent stars will be battling and exploring a virtual world in the cross-platform game.
During game play, users can transport collectible character figurines into onscreen games. The characters, which hail from hit Disney and Pixar franchises like Pirates of the Caribbean, TheIncredibles and Monsters University, are plugged into an Infinity Base portal.They then come alive in the system's virtual world through the magic of near field communication(NFC) technology.
The characters are transported into a variety of iconic Disney settings where they can solve puzzles and fight battles, using skills or resources suited to their corresponding film personas.
The improvisational Toy Box mode lets users collect gadgets and characters to construct their own fantasy worlds in settings such as Jack Sparrow's pirate ship. Users can connect to other gamers worldwide to share those creations.
"Disney Infinity" will kick off in June with the release of 40 characters for the Xbox 360, PS3, Wii, Wii U and 3DS platforms. The company will roll out the system to mobile and PC platforms throughout 2013.
Disney did not respond to TechNewsWorld's request for further details.
Taking on 'Skylanders'
"Disney Infinity's" similarity to Activision's "Skylanders" series hasn't gone unnoticed. "Skylanders" allows users to plug figurines of giants, monsters, robots and other characters into a physicalbase that transports them into an onscreen virtual world.
It's not a bad model to emulate, said Michael Pachter, managing director of equityresearch at Wedbush Securities. The concept of figurine-to-screen took flight after"Skylanders" launched.
If its product is just as good, Disney can use its established consumer base and marketing platform to deeply penetrate the market, Pachter pointed out.
"It should have similar success, with around four-to-five million units sold annually," he toldTechNewsWorld.
"Disney's edge is its brands and characters, and I think theyhave better marketing than most of the competition. Plus, they own their own kids'networks with Disney Channel and ABC Family. I think they can position the productwell, and sales should be great if the product is good," Pachter added.
Disney's emulation of 'Skylanders' shows the brilliance of Activision's investment, Ted Pollak, senior gaming analyst at Jon Peddie Research, told TechNewsWorld.
"I think 'Infinity' will be well received in the market, but a question surrounds Disney's ability to continually mint new characters and keep their old ones relevant for children," he observed.
Making It Fun
That could be a taller order than it might seem.
Disney probably recognizes that its first priority should be creating asystem that gamers will be fighting to get their hands on — but that hasn't been thecompany's strength in the past, said Raphael van Lierop, founder and creative director of Helm.
"If the games aren't any good, or the unified virtual environment they are supposedto play within isn't an enjoyable experience, then this initiative could be a disaster,"he told TechNewsWorld.
"Ultimately, you can put toys and platforms intopeople's hands, and their success always comes down to how good the experience is. That remains to be seen. The fact is, Disney is an IP and media company, but not agames-centric one, and historically their games initiatives have failed to find successin the market. It's hard to know if this will be any different," van Lierop said.
In order to tell a new Disney gaming story, the company must realize it is trying tocompete in a new and slightly unfamiliar space, he added.
"Hire the best games people you can to run that side of the business, and don't try torun your games studios like you do your film studios, because it just won't work," advised van Lierop.
"If they can do that," he concluded, "then maybe they have a chance."
Even if Disney's new system doesn't immediately skyrocket, it'sonly the beginning for "Disney Infinity"- and "Skylanders"-style games.
Transporting figurines into a gaming system is a relatively new idea. With success from Disney and Activision, as well as continuing advances in NFC technology, gamershave a lot to look forward to if other companies jump on board with the concept, noted Jon Peddie's Pollak.
"All in all, this product completely validates the toy/video game connection,"he said. "I would expect other companies to get involved, and theresulting competition should push innovation and create better experiences for theconsumer."