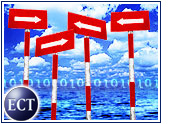 Despite a lengthy shakeout that has considerably thinned the ranks of e-tailers, consumers still face a dizzying array of choices when deciding where they will shop online. But analysts say the once-cluttered market is already starting to become better defined, and the process will only accelerate over time.
"It takes time for a company to break out of the pack and distinguish itself in the eyes of consumers," Harris Interactive e-commerce analyst Lori Iventosch-James told the E-Commerce Times.
Emerging Leaders
In fact, the sectors of e-commerce that have the longest history — such as books, music and video — are already well defined. Amazonfar outdraws all other online booksellers, while eBay clearly dominates online auctions.
Other sectors will begin to take on similar characteristics over time as consumers get more online shopping experience under their belts, Iventosch-James said.
"From a satisfaction standpoint, consumers came back after some pretty bad experiences," she noted. "That means they're making the distinction between individual companies and the industry as a whole. The fact that they're looking at it that way probably means they'll go back again and again to places that get it right."
Crowded Market
Still, the marketplace remains crowded. Consider the online travel sector. In a pack that includes Priceline.com, Orbitz and relative newcomer Trip.com, among many others, longtime leaders Expedia and Travelocity draw nearly the same number of visitors each month, Nielsen//NetRatings analyst Lisa Strand told the E-Commerce Times.
"We know a lot of new customers are using the online services, so it's likely they're taking more than one site for a test drive," Strand said. Eventually, though, she noted, users are likely to settle on a single company that will receive the lion's share of their business.
More Shaking To Come
Most analysts said they believe that despite recent profits and strong sales growth, the travel sector is destined for consolidation, as are most subcategories of e-commerce.
Already, the online electronics category has been whittled down considerably, with Egghead.com, Outpost.com and others shuttered or absorbed by competitors.
Other categories — such as online toys, where Toysrus.com has broken out of the pack — have seen clear winners emerge. But at the same time, brick-and-mortar retailers continue to belatedly muscle onto the scene, bringing considerable name recognition and the multichannel experience that more and more consumers are seeking.
Price Matters
In fact, while some e-tailers, notably Amazon.com, which recently lowered its book prices, are staking their claim on being the lowest-priced place to shop, most analysts believe true differentiation will result from customer experience, not cost.
"Companies that present the most seamless experience and do it without stumbling, they're the ones that are rising to the top," Forrester Research analyst Christopher Kelley told the E-Commerce Times.
In some sectors, such as apparel sales, those top companies are catalog retailers; in others, such as electronics, they are brick-and-mortar stores or e-tailers.
According to analysts, the online world will begin to look more like the world of traditional retail as the e-commerce industry matures, with a handful of well-established brands doing the bulk of the business and other players finding niches in which they can thrive, albeit on a smaller scale.
"Consumers want choice, but they also like to feel comfortable," Iventosch-James said.