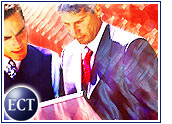 The lure of CRM is strong. It holds the promise of bringing businesses closer to consumers and feeds the expectation that happier customers will translate into much higher revenue.
However, the picture can begin to seem a lot less favorable when a company starts to sort through various CRM options to figure out exactly how to address its particular business problems.
The process is "slow, expensive and often highly disruptive — particularly now,when vendors will fight to the death to get an order," Glenn Gutwillig, Answerthink managing director of CRM solutions, told CRM Buyer Magazine.
When beginning to plan for a CRM initiative, company executives typically send requests for proposals (RFPs) toseveral vendors in hopes that those vendors' detailed written answers — along withproduct demonstrations — will bring the right CRM system to light. At a minimum, a highly competitive RFP process takes 90 days.
Once an RFP is sent to vendors, it takes about a month to receive replies.Invariably, several key vendors will ask for extensions. Then, company managers must review all of the RFPs to arrive at a shortlist. Vendors that make the cut typically are askedto do product demonstrations.
Too Many Sellers
Sometimes, companies do not shorten the vendor list before soliciting product demos, but analysts regard that as a time-consuming mistake."The worst thing I've seen is a company ask for product demos from adozen vendors," AMR Research director Joanie Rufo told CRM Buyer.
It is typical for vendors to use a product demonstration as an opportunity to show prospective clients how their offerings differ from one another, Gutwillig said, but such marketing tactics can addto a buyer's confusion about a proposed CRM project.
There are no easy ways to get around the CRM product selection morass, butbusinesses can be smarter about navigating it.
Homework Assignment
"Never shortchange the system selection process. Never shortcut thereference process. And talk to people with the same implementationyou're looking at," Rufo said.
By doing a lot of homework and planning, potential CRM customers can lopoff quite a bit of time and, potentially, save significant sums of money."There is enough information out there to know what vendors areproviding what functionality," Rufo said.
Carefully defining pain points and functionality requirements — withor without the help of a consultant — is the most important part of theproduct selection process, she said.
To do this, potential CRM customers need to understand the requirementsof the CRM software — how it works, what functionality it includes andhow it integrates with other applications, Gutwillig added.
Health Checkup
Answerthink also recommended that potential customers examine the viability of CRM vendors — meaning that prospects should look at each candidate's overallfinancial health, the amount of cash it has available, and how much itspends on research and development each year.
Buyers should take a look at each company's internal condition as well. Prospective customers need assurance that there is a technological environment in place that can support any CRM system under consideration, Gutwillig said.
When a company makes decisions using these considerations, it can narrowits vendor list to two or three candidates.
Vendors' Challenge
Only after the selection process is over should a potential CRM customerask for product demonstrations. The requirements for these demos shouldbe very detailed, and companies should provide sample data for eachvendor to use in the mock-ups, according to Gutwillig.
Requiring a vendor to use sample data in a product demo allows acompany's IT group to witness operational glitches, if there are any,during the presale process.
This step can save a business hundreds of thousands of dollars, because anyproblems will be addressed, according to Gutwillig, "on the vendor's nickel."
Avoiding the traditional RFP process can shorten the vendorselection timeline by 90 to 120 days, he pointed out.
That time saved might as well be cash in the bank, something businessesare relying on to get them through the current recession.