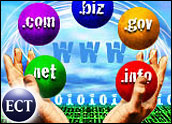 Register.com (Nasdaq: RCOM) on Wednesday launched an online auction service allowing businesses and individuals to bid for any of the 20 million Internet domain names already in use.
The service, dubbed the Afternic Virtual Broker, will act as a middleman between bidders and the current owners of all ".com," ".net" and ".org" domains.
Register.com executives said the e-commerce site is based on the principle that everything is for sale — for the right price.
"My shoes are not for sale, but if someone on the street offers me enough money for them, I'll walk home barefoot," Register.com director of aftermarket operations Chris Maroney said. "It's the same with domain names."
Afternic.com, a wholly-owned subsidiary of Register.com, developed the new service.
Anonymous Bids
Bids can be made anonymously, and users whose searches of Register.com's database turn up sites that are already reserved will automatically be given the option of making an offer. Already, about 1 million reserved sites are listed as for sale on the Afternic site.
Bids on names not up for sale will be passed along to the owners, who can opt out of receiving bids if they choose.
"The reality is that purchasing a name in the resale market can be an affordable way to get the one you really want," said Register.com chief executive officer Richard Forman. "Considering that less than half of all registered domain names are currently in use, chances are your ideal name is available for resale at the right price."
Targeting Shortage
After a sale price is agreed upon, Afternic will also serve as a broker for the finalized deal. The company will receive a flat fee of US$100 if the site is sold for less than $2,000 and a 5 percent commission if the price is over $2,000.
The auction site aims to take advantage of an apparent shortage of domain names in the three main existing categories and also stands to benefit from the e-commerce shakeout, which has begun to claim dot-coms with well-known Web addresses.
For instance, earlier this month, Petsmart.com quickly pounced on the domain name and other assets of high-profile e-tailer Pets.com after that company said it would cease operations.
New Domains on the Way
There are also signs that interest is already running high in the next generation of top level domains recently approved by the International Corporation for Assigned Names and Numbers (ICANN).
While those new domains — which include ".biz," ".pro" and ".info" — are not yet available for sale, a site created by VeriSign offering information on the new domains is reportedly being swamped by users.
Domainupdate.com has been down several times in recent days due to a flood of users attempting to access the site, according to VeriSign, which bought No. 1 domain registrant Network Solutions last year.
Those new domains are not expected to be available for sale until early in 2001. In fact, ICANN and the Federal Trade Commission issued a warning last month against online scams that claimed to offer the opportunity to pre-register the new domains.