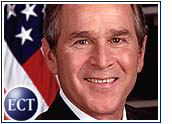 With the nomination Wednesday of Don Evans as U.S. Secretary of Commerce by President-elect George W. Bush, many e-commerce analysts are wondering how the potential new Cabinet member will affect the New Economy.
So far, little is known about the technology views of Evans, who is reportedly one of Bush's closest friends.
"I don't think there are too many ways in which the change in administration will affect e-commerce," Forrester Research government analyst Jay Stanley told the E-Commerce Times. "The bigger issue is how the Internet is regulated and how vigorously."
The 54 year-old Evans said, according to published reports, that if his nomination is confirmed, "the promotion of free enterprise, first in America and then abroad, will be our first priority — free flow of capital, free and open competition."
Evans is chairman and chief executive officer of Tom Brown, Inc., a Midland, Texas oil and gas company, and the former general chairman and national finance chairman of Bush's presidential campaign. Evans also served as the finance chairman for Bush's gubernatorial campaigns in 1994 and 1998.
Spotlight on Privacy
If campaign rhetoric is any indication, the Bush administration will maintain a fairly laissez-faire approach to Internet regulations, except when it comes to privacy. Congress is expected to see some privacy legislation in the near future, according to Stanley.
"It is true privacy is more bipartisan than other issues, but I do think there's an overall tendency for Democrats to be more accepting of privacy regulation, especially when it comes to regulating corporations," Stanley said.
On the campaign trail in June, Bush said he would enforce antitrust laws and leave the details of Internet privacy legislation to his lawyers.
"I think there ought to be laws that say a company cannot use my information without my permission," Bush told the industry press at the time. "We can live in a private world."
Regulation Pressure
The pressure to impose regulations on e-commerce is growing, as the Internet begins to disrupt existing institutions and create new problems such as intellectual property issues. Governments are already struggling with how to adapt current laws to the new online world.
"Republicans are slower and more hesitant to regulate than Democrats," Stanley said. "They're more trustful of the marketplace. It's not so much about Bush/[Al] Gore, but the philosophies of the individual Cabinet posts."
Until more is known about the business policies of Evans himself, however, one might assume Evans will toe the Bush line.
"I'm not going to be litigation happy," Bush said in June.