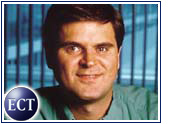 Easily exceeding Wall Street's expectations, America Online, Inc. announced Thursday that an upsurge in e-commerce and advertising income helped double its fourth quarter revenues.
Excluding one-time investment gains and charges, the Dulles, Virginia-based company said it earned $334 million (US$), or 13 cents per share from $157 million, or six cents per share, a year ago. This figure easily exceeded the 11 cents per share profit forecast by a consensus of 31 financial analysts surveyed by First Call/Thomson Financial.
Moreover, AOL's overall revenue growth met expectations by soaring 39 percent to $1.93 billion from $1.38 billion a year earlier.
E-Commerce and Advertising Spark Growth
Although 61 percent of AOL's revenue still comes from its monthly subscription fees, $609 million came from e-commerce and ad sales. This tally nearly doubles last year's total of $313 million.
Additionally, AOL subscriber membership has skyrocketed this year. "We added an all time high of 5.6 million AOL members this year, bringing membership to more than 23 million worldwide," said AOL chairman and CEO Steve Case. "Just four years after becoming the only Internet company with $1 billion in annual revenues, we are now posting $1 billion in annual profits."
Other Healthy Signs
If there were such a thing as a pinup for a healthy Internet company, AOL's quarterly financials would be in the running:
Cash flow from AOL's operations jumped to $572 million, a 166 percent increase over the same period last year.
Subscription revenue rose 26 percent to $1.2 billion.
Operating margins increased to 24 percent, from 16 percent a year ago.
Average usage per member per day increased to 58 minutes this quarter, compared with 52 minutes during the same period last year.
European Growth
AOL also reported that it signed up nearly 200,000 new European subscribers this quarter, bringing the total served to more than 3.6 million. According to research firm Media Metrix, these numbers make AOL the top online service in Europe.
AOL Latin America launched its AOL Mexico service earlier this month, and will introduce its AOL Argentina service later this summer.
Merger Still Pending
In January, AOL and Time Warner proposed a blockbuster merger that would change the high-tech landscape dramatically. AOL shareholders have approved the deal, but the companies still face scrutiny from the U.S. Federal Communications Commission (FCC).
If the merger is approved, Time Warner and America Online stock will be converted to AOL Time Warner stock at fixed exchange ratios.
Time Warner common shareholders will receive 1.5 shares of AOL Time Warner common stock for each share of Time Warner common stock they own. AOL shareholders will receive one share of AOL Time Warner for each share of AOL common stock they own.