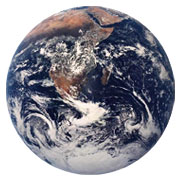 Enormous solar blasts, which possessed the potential to wreak havoc on electrical grids and satellites, barely missed Earth in 2012.
The near-misses, revealed by researchers Wednesday, would have been akin to the 1859 Carrington Event, the largest solar storm ever recorded. While there were no satellites to cripple back then, the storm knocked out telegraph systems across the U.S.
A study from 2013 estimated that a Carrington-esque storm would cost the global economy more than US$2.5 trillion.
The storms from 2012 involved enormous bursts of solar wind and magnetic fields, which shot off the sun and into space on July 23. Had the phenomena occurred nine days earlier, they would have been aimed squarely at Earth.
Technically speaking: The solar bursts "carried southward magnetic field that would have clashed with Earth's northward field," as Reuters explains. This would have caused a shift in electrical currents, and could have caused electrical transformers simply to burst into flames.
[Source: Reuters]
Brazil Drops Domestic Storage Plan
Brazil will not pursue a provision that would have required Internet companies to store data on Brazilian users within the country.
The plan was hatched last summer as Edward Snowden's revelations picked up steam. Among those revelations, of course, was the National Security Agency's history of spying on Brazilians, including President Dilma Rousseff.
The domestic data legislation has been amended to say that companies like Facebook and Google are subject to Brazilian law in cases that involve information on Brazilians, even if said data is stored abroad.
Rousseff and Co. were indeed ticked about U.S. spying, so much so that Rousseff canceled a planned visit to D.C. and later bashed the NSA to the UN General Assembly.
[Source: The New York Times] Alibaba Plops Down $215M for Messaging AppChinese e-commerce giant Alibaba, which earlier this week announced it would launch a stateside initial public offering, will spend $215 million for a minority stake in Tango, a messaging and free-call app.
The $215 million is part of a $280 million funding round for California-based Tango, which is valued at $1.1 billion, according to regulatory findings from research firm VC Experts. Thus is Alibaba's stake worth between 20 and 25 percent.
The messaging app acquisition season is in full bloom: Japanese e-commerce outfit Rakuten acquired Viber for $900 million last month, right before Facebook acquired WhatsApp for $19 billion.
The 4-year-old Tango, which claims 200 million registered users, has distributed 30 game titles over the past eight months, and has partnered with Spotify to let users share snippets of music.
A noteworthy facet to Alibaba's investment in Tango is that the app is rather irrelevant in China, which is dominated by the homegrown WeChat. That a Chinese company would pony up so much dough in a U.S. company — and do so immediately after announcing its planned U.S. listing — could signal that its sights are sets on the American market, according to Tech In Asia.
[Source: Forbes]
Aussie Man Charged for Hacking US Videogame Co.
A 21-year-old man in Queensland, Australia, has been charged for hacking a U.S.-based video game company's computer network.
Following an investigation between local police and the FBI, the man is alleged to have accessed the network's databases and files. He also is accused of commandeering the company's Twitter account and posting confidential information and screenshots, and of setting up a paid service that enabled people to search the company's player database.
The name of the video game company was not released.
[Source: The Age]