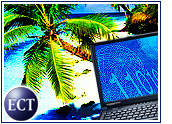 Looking to grab a share of the US$7 billion per year timeshare industry, Internet auction giant EBay (Nasdaq: EBAY) said Monday it will launch a marketplace exclusively for buying and selling the vacation getaways.
The timeshare marketplace will be located on EBay Real Estate and will feature properties from several strategic partners, as well as properties put up for rent or sale by individuals.
Timeshares, in which individuals buy the rights to certain weeks rather than an entire vacation property, will take their place alongside foreclosed properties, residential homes, and land and commercial properties in EBay's two-year-old real estate section.
As with the rest of EBay's property listings, timeshare auctions will not be legally binding offers to buy property but will be "expressions of interest" to be consummated as offline deals.
Common Ground
EBay anticipates that its worldwide reach can help bring buyers and sellers of timeshares together. There are about five million timeshare owners worldwide, EBay said, and $7 billion was spent on the vacation getaways last year — more than half of that in the United States.
The timeshare market enjoys "a wealth of educated buyers and sellers,"said Doug Galen, general manager of EBay Real Estate.
EBay, Galen said, offers a "secure, efficient and proven trading platform for these parties to connect."
As with other EBay initiatives, the timeshares section grew out of individuals using the eBay marketplace to buy, sell and swap weeks, the company said.
Partners Aboard
In addition to enabling individuals to buy and sell timeshares, the marketplace also sets up a central location where hotels and others that deal in vacation properties can sell their offerings.
Partners include Timeshare Nation and Century 21 Vacation Properties. EBay said initial properties up for sale and rent range from ski lodges in Colorado to villas on the Mediterranean.
"EBay Real Estate allows us to reach a wider cross-section of motivated buyers than ever before, dramatically increasing our penetration in this marketplace while lowering our overall customer acquisition costs," said Ed Kinney, senior director of the Marriott Vacation Club.
On the Move
The new offering comes a week after EBay announced strong fourth-quarter earnings that outpaced analysts expectations and projected strong increases in sales for the first half of 2002.
Later in the week, the auction giant announced it would increase certain auction listing fees — the first such move in several years.
EBay has set and stuck by ambitious growth targets, saying it would achieve $3 billion in sales by 2005 — a goal that will require nearly a 50 percent annual growth rate.