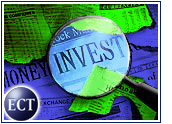 Internet auction powerhouse eBay (Nasdaq: EBAY) said Thursday it might seek to sell up to US$1 billion worth of stock in coming months.
In a shelf-filing with the U.S. Securities and Exchange Commission, eBay said it would use proceeds from the share sale for general corporate purposes, including capital expenditures. eBay also said some of the cash could be set aside for potential acquisitions.
eBay spokesman Kevin Purslgove called the filing "an exercise in sound corporate governance."
"The shelf registration means if we want to raise cash for any future business transaction, we can do so easily and quickly," Pursglove told the E-Commerce Times. "As the business climate changes, we feel we should be prepared for opportunities that may arise in the future. This filing helps give us the financial flexibility to take advantage of any opportunity that may arise."
The registration clears the way for eBay to sell the stock from time to time but does not mean the shares will be sold. The price of the shares to be sold and the size of the individual offerings would be determined at the time of the sale, the filing stated.
Weak Reaction?
As of mid-morning, eBay shares fell $1.07 to $54.02 on news of the potential stock sale, down from a Thursday close of $55.09.
But Derek Brown, an analyst with H.R. Hambrecht & Co., said eBay's "incredibly bullish outlook" and strong growth in all areas of its business will likely outweigh any concerns about dilution of the stock value in the long run. Brown has rated eBay a strong buy and predicts the stock will hit the $75 level within a year.
eBay has laid out an ambitious growth plan for the next four years, which will require nearly 50 percent annual growth in revenue.
Plenty of Cash
David Kathman, a stock analyst with Morningstar.com, told the E-Commerce Times that eBay does not need the cash because, at last check, the company had $440 million worth on the books.
"I don't know whether eBay has anything specific in mind, but I'm sure this is tied in with their aggressive growth plans to reach $3 billion in annual revenue by 2005," Kathman said. "I'm sure they'll be making more acquisitions. They're in a position of strength, so they can afford to take some chances."
Kathman emphasized that the registration does not necessarily mean eBay will sell the stock.
"My guess is that they're using this shelf registration as one more financing option that they can tap into if and when they need it,so they can spend on their expansion without letting their cash reserves get too low," he added. "They've done a good job of avoiding the excesses of other dot-coms, and I don't think they'll go overboard in their spending now."
Keeping Busy
Earlier Thursday, eBay unveiled a wide-ranging partnership with IBM (NYSE: IBM) under which eBay will use Big Blue software to power its marketplace and IBM will expand sales of its computer products on eBay.
eBay also officially threw open the doors to its storefronts section on Thursday, where 20,000 businesses and individuals have set up shop. And last week, the company announced that it reached a deal with Columbia TriStar Television Distribution, a division of Sony Pictures Entertainment (NYSE: SNE), to produce a daily syndicated TV show about eBay auctions.