Bright and Shiny Fire Phone: Amazon Delivers
By Chris Maxcer
Jun 18, 2014 3:31 PM PT
Despite entering the smartphone world late, Amazon managed to double down with a user-focused infusion of technical innovation to deliver a compelling new device: the Amazon Fire Phone.
The most head-turning feature is its ability to track your face and create a three-dimensional effect on the home screen and in apps, which makes it seem as if you're peering into a lavishly illustrated diorama rather than a 2D smartphone screen.
It looks fantastic.
Promotional videos on the Amazon Fire Phone page give you a sneak peek, but to get one in your hands, you'll have to wait until July 25.
Will the Fire Phone Take Off?
The real questions, of course, are these: Does the Amazon Fire Phone have enough cool features to become a coveted force in the smartphone world? Can it dislodge the iPhone or Samsung's Android-leading Galaxy line?
Will you want to buy one? Will I? Are you willing to shed your Apple ecosystem investment or Google-centric Android world for Amazon's?
In my opinion, the total package isn't radical enough to dislodge the two big market leaders, but the execs at every other manufacturer -- including Microsoft -- are probably swearing up a storm in their offices right now, if not knocking back a couple of shots of powerful booze.
The Fire Phone is sure to be a hit with Amazon's most engaged customers -- which, as Amazon CEO Jeff Bezos noted during the presentation, was a driving factor to produce it in the first place. That is, Amazon wanted to improve the smartphone and the shopping experience for its customers.
Smart play, definitely.
More Than a Pretty Face
Let's take a closer look at the details -- first, those 3D effects. Called "dynamic perspective," the Amazon invention creates a 3D-like effect by scanning your face with four ultra-low power cameras and four infrared LEDs built into the front face of the Fire, which sports a 4.7-inch screen. Amazon uses a dedicated custom processor with computer vision algorithms, combined with a new power-efficient rendering engine.
Dynamic Perspective lets you use one-handed gestures to auto-scroll through long Web pages or read e-books without having to touch the screen. If you tilt while using Amazon Music, the Fire Phone will show you song lyrics. A swivel can reveal quick actions, or show you things like Yelp ratings and reviews in the Amazon Maps app.
The Maps app, by the way, which Amazon didn't talk about in any great detail, lets you view cities with the same 3D-dioramic sort of effect.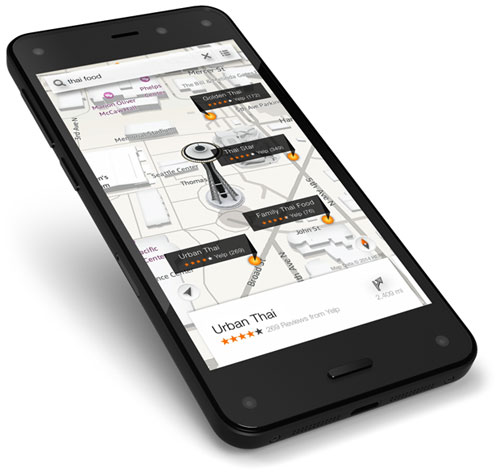 Fire With Amazon Maps
With Dynamic Perspective, games will sport a whole new feel -- and maybe even a higher level of addiction. When combined with the Amazon ecosystem of products, the Fire Phone will let shoppers look at product images from multiple angles with a three-dimensional feel.
Of course, Amazon was smart to release a software developer kit to let third-party app developers tap into Dynamic Perspective to build games and apps. If their ideas take off and create some killer new apps only available on the Fire Phone, Amazon could seriously start attracting some switchers.
Beyond 3D With Firefly
While Dynamic Perspective will bring a whole new level of realism and a more tangible feel to a flat smartphone screen -- don't curved screens seem like a suddenly quaint idea? -- Amazon didn't stop at fancy 3D work and call it good: Enter Firefly.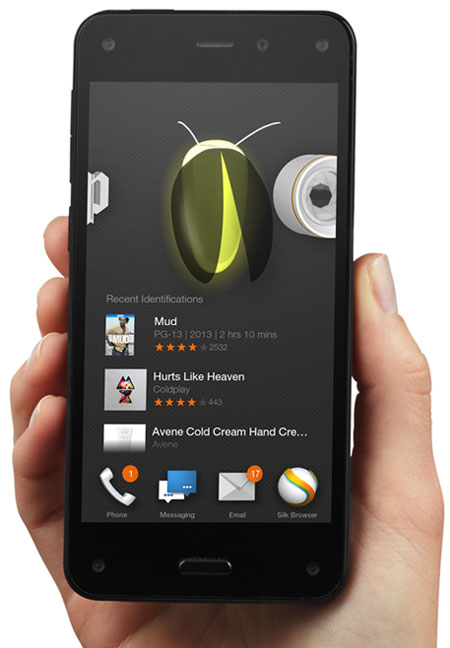 Fire With Firefly
Firefly basically lets your Fire Phone camera look at a product in the real world -- like a magazine, book, jar of peanut butter -- and identify it. The next step? You can see the product for sale -- on Amazon, of course -- right through your phone, easy to buy.
That's obviously a revenue generator for Amazon, but Firefly can do more -- like read QR and bar codes, and identify email addresses and phone numbers from posters, magazine pages or printed signs. To use it, simply press and hold a dedicated Firefly button on the side of the Fire Phone.
Firefly doesn't just see -- it can listen, too, identifying songs or recognizing movies and TV episodes just from a bit of audio. Judging by the demonstrations and claims made by Amazon, it all looks to work very quickly.
For example, to recognize a phone number on a poster for a lost kitten, Firefly will scan an image of the poster, remove all image information except for a phone number and text that you're likely interested in, and send a tiny amount of image data up to Amazon's servers in the sky for processing, which then sends the phone number back to your Fire Phone so you can actually use it.
The bottom line is, there's a lot of stuff going behind the scenes, and it seems to represent a helluva leap forward in the text, object, media and brand recognition space -- all jammed into a single Amazon Firefly app.
Amazon is courting developers here, too: The Firefly SDK is available today so developers can infuse it into their own apps. Vivino, for instance, will use it for wine label recognition.
Firefly Looks Awesome
There is something about Firefly that piqued my interest more than the imaging and database ninjutsu -- the look and feel. When you invoke Firefly, a bunch of tiny points of light swarm around the image you're trying to process. They seem alive and active, friendly and working -- like fireflies buzzing around with a job to do.
The simplicity and creativity of this single feature is just one reason I think the Amazon Fire Phone has a chance to delight customers and spark adoption.
Firefly has the potential to take an everyday tool and turn it into an experience that builds a relationship with your phone. Humans are creatures with emotion, most of us, and Amazon is personifying the Fire Phone with well-thought-out features like Firefly and Dynamic Perspective.
These are the powerful new features that have real potential to elevate the Fire Phone.
Meanwhile, What About the Core Specs?
The Fire Phone is built with solid specs that rival today's smartphones. It has a super-bright 4.7-inch screen that you can see with sunglasses on. The processor is a quad-core Qualcomm Snapdragon 2.2 GHz with 2 GB of RAM powerhouse.
It has a 13-megapixel rear camera with a 5-element f/2.0 lens with optical image stabilization. Plus, the Fire Phone has an instant-on physical side button that will launch the camera app (which I sorely wish the iPhone had).
At launch, a 32-GB version will go for US$199 with a two-year AT&T contract or $299 for 64 GB. For a limited time, you can snag one year of Amazon Prime for free, too, which is a $99 value. If you're already a Prime customer, this 12 months of Prime will extend your service by 12 months -- a great deal if you care about Prime, which gives you faster shipping from Amazon along with Netflix-like streaming movie, TV show, and music services.
When you combine the Fire Phone with the Fire TV and Kindle Fire tablet ecosystem of devices and content, a consumer can, relatively easily, choose to leap away from the Apple or Google Android-focused ecosystems. Amazon is covering what a vast majority of customers really want.
Achilles' Heels?
Unfortunately, by offering service only through AT&T, Amazon will definitely slow its rollout potential, giving its competitors time to come up with similar sorts of solutions.
The pricing is relatively the same as all the other smartphones on the market, so there's no new compelling cost justification to leap into a Fire Phone.
The curated Amazon Fire App store has about 240,000 apps, while well over a million apps can run on other versions of Android or Apple's iOS.
How will the Fire Phone perform as a phone? Will it have great call quality? A simple usability error could doom Amazon's first effort.
Still, the wild card is how a world of people react to the immersive design. Once the Fire Phone gets into customers' hands and they share the experience with their friends and family, it will make every other smartphone seem flat and stale ... assuming the overall user interface is usable. Fast. Easy. Intuitive.
Real-world use will show whether Amazon nailed it or not. The basics matter, but innovation can help people overlook minor flaws. Amazon's two new powerful innovations -- Dynamic Perspective and Firefly -- have huge potential to attract customers. Combined with a few killer new apps, the Fire Phone has truly impressive potential, especially for a company's first-ever smartphone.
I know I'm looking forward to getting my hands on one.

---