Email marketing has been a mainstay marketing tool for 10 years or more. When social media's clout with consumers became apparent — Facebook now has 500 million users and counting — there was much talk about whether email marketing was even still relevant.
Email marketing providers responded quickly with the argument that it is not only still relevant, but also complementary — and that using these various forms of outreach together can drive customer engagement and sales even higher.
Exhibit A is Constant Contact, which has been focusing on adding social media sharing tools to its menu of email marketing offerings for the past year, with its latest tweak introduced last month.
A Regular Habit
"Email marketing is still the best way a company can get its message heard," Mark Schmulen, general manager of social media at Constant Contact, told CRM Buyer. "An email message is always delivered to an in-box, and consumers are trained to check their in-boxes routinely."
That is still not the case with social media, where fans might enjoy looking at a brand's page, but they haven't learned to check in on it regularly, he said.
Companies can get around this by combining the more playful aspect of social media with email marketing's standard tools, suggested Schmulen.
Social Sharing
Constant Contact began incorporating "social sharing" tools, as this emerging genre in email marketing is called, with the launch of Simple Share this summer. This is a button that allows a company to share an email newsletter with followers on the social channel.
Constant Contact provides a unique URL of the email, which followers can view on a Web page, Schmulen explained. Another addition is its Social Share bar, which allows users to view emails directly from a Web browser.
A third tool, Social Stats, provides reporting functionality that lets users see how well their social sharing initiatives are performing.
"It lets you see how many times an email was liked or shared, or how many people joined your list after an email was shared," Schmulen said. Companies can then make decisions about their social media and email marketing campaigns based on this data.
Constant Contact rolled out social email templates this November. These are templates for companies that want to make sure that email messages are designed to render appropriately for the social media environment.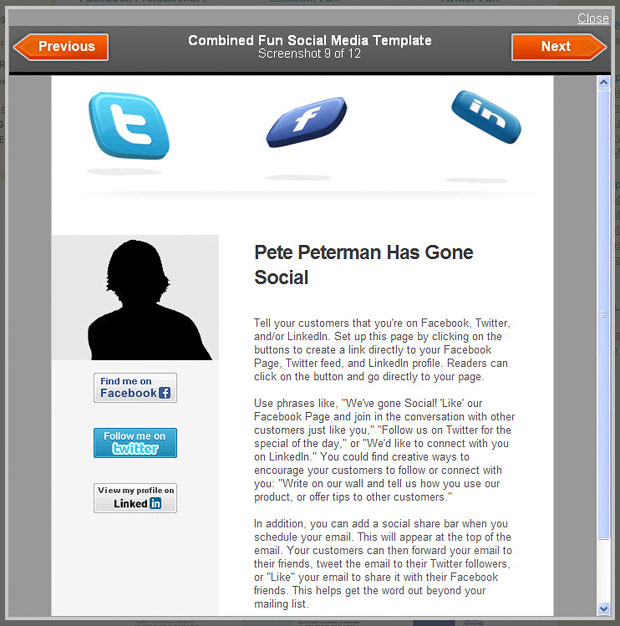 Next Steps
Now the firm is working on its next initiative, which it expects will step up the social sharing process for customers, said Schmulen, though he declined to provide many details other than the next evolution will be focused on a social call to action for email marketers.
In other words, it will include tools and products designed to help companies encourage their customers to engage with them on their Facebook pages or Twitter feeds, as well as through their email marketing campaigns.
"We have been seeing great success with customers using email as a way to pull their customers into their social channels for further engagement," said Schmulen.