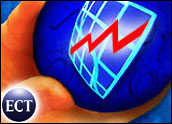 Amid speculation that troubled e-tailer eToys (Nasdaq: ETYS) may be close to finding a buyer, shares in the company jumped from 19 cents per share Tuesday morning to 59 cents by the closing bell.
Over 40 million shares — more than six times the company's average daily volume of 5.9 million shares — changed hands on Tuesday.
"I wouldn't be terribly surprised if someone bought them out," Morningstar.com analyst Joe Beaulieu told the E-Commerce Times.
eToys investor relations representative Chem Teng told the E-Commerce Times that the company "won't comment on rumor and speculation."
However, the Los Angeles, California-based e-tailer announced on December 15th that it had hired investment banking firm Goldman Sachs to "explore strategic alternatives for the company, which may include a merger, asset sale, investment in the company or another comparable transaction, or a financial restructuring."
Out of Cash?
While eToys said previously that the firm had enough cash on hand to last until March, Beaulieu believes the company's "days are numbered." In fact, Beaulieu said he would be surprised if the company is still in business when it is due to report its fourth quarter results on January 25th.
Another sign that eToys is at the end of its rope is the ongoing clearance sale on the site, which offerseverything at eToys at "up to 75 percent off." Beaulieu said the company is "obviously ramping up to shut down quickly."
Leave a Message
The company is also apparently having trouble with creditors. According to published reports, eToys' accounts payable department stopped answering the phone last week.
Creditors who call are reportedly greeted with a message that says the company "is finding it extremely difficult to answer phone calls from creditors and vendors." Callers are then advised to contact a committee consisting of eight of eToys' largest creditors to get information about accounts payable.
Letting Go
Two weeks ago, in a bid to cut its cash burn rate, eToys laid off 700 employees, or about 70 percent of its workforce, and announced plans to close warehouses in Commerce, California and Greensboro, North Carolina.
The company's massive U.S. layoffs came only days after the company said it was closing its European operations, putting 74 employees out of work, because of the "disappointing recent performance of the company as a whole" and poor market conditions.
Sub-par holiday results have contributed to eToys' woes. In December, the company said "that revenues for the holiday quarter would be significantly less than earlier projections, due in large part to a generally harsh retail climate and the continued disfavor of Internet retailing."
Trouble in Toyland
Despite being an early leader and retaining the No. 2 ranking in the online toy space, eToys has been fighting an uphill battle against the dynamic duo of Amazon and Toys 'R' Us, which linked forces in August to offer a co-branded Web site.
Holiday statistics from Nielsen//NetRatings show that during the holiday shopping season, the Amazon/Toys 'R' Us joint venture saw 123 million visitors, more than five times the traffic of eToys, which saw just over 21 million shopping visits during the season.
The online toy market has already proven fatal for other e-tailers, even those with deep pockets and big-name investors. Toysmart.com, which enjoyed the backing of the Walt Disney Company, folded in May. Weeks later, Toytime.com gave up just nine months after launch.