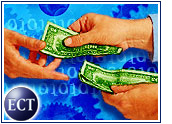 Seeking to repair an embarrassing discrepancy between the pay of its top executive and the company's staggering financial losses, E*Trade said Friday that it has rewritten the contract of CEO Christos M. Cotsakos.
Under the terms of the new contract, Cotsakos will repay about US$21 million worth of compensation he received during 2001, including $15 million worth of restricted stock grants and $6 million that E*Trade paid into a special retirement fund.
Making Amends
Menlo Park, California-based E*Trade said the move is "aimed at completely aligning Chairman and CEO compensation with shareowner and stakeholder value."
"I have listened to shareowner concerns and want to dispel any doubt that my commitment to the success of this company is unwavering," Cotsakos said. "I am eager to eliminate the distraction of the compensation discussion so that we can focus on the business of E*Trade Financial."
The two-year agreement calls for Cotsakos to receive no base pay and for his bonuses to be tied directly to the company's financial performance.
Compare and Contrast
Cotsakos' compensation became a flash-point for shareholder criticism after it was disclosed in the company's annual report. E*Trade lost $241.5 million in 2001. It also was an exception in a year when many CEOs voluntarily took little or no base pay to reflect the changed economic environment.
At the same time, several high-profile chief executives announced their retirements. Sun Microsystems, AOL Time Warner and Travelocity all have seen CEOs announce their departures in recent weeks.
The pay flap also hit E*Trade shares, which shed 30 percent of their value over the course of a week. The stock slipped to $5, not far above its 52-week low of $4.20.
Stronger Boards
The new contract also reworks the CEO's severance clause should E*Trade be acquired and new management put in place. E*Trade did not specify the new terms of that clause, which originally called for Cotsakos to receive $125 million in such a scenario.
John A. Challenger, CEO of outplacement firm Challenger, Gray & Christmas, told the E-Commerce Times that chief executives, who were considered by many to be heroes for their actions in the wake of September 11th, are facing new challenges in a changed corporate world.
"Higher turnover at the top is the result of increased pressure from shareholders and their representatives on corporate boards, who will not tolerate failure to meet earnings estimates and other short-term goals," said Challenger.
Watchdogs Wake Up
Corporate boards, spurred on by the Enron debacle and the new economic climate, are becoming more independent, acting as watchdogs for shareholders rather than rubber-stamping the decisions of managements, Challenger added.
"As more boards find this independence, there will be more oversight and much more questioning of what the CEO is doing," he said.
Despite the concessions in Cotsakos' new contract and recent share price turbulence, E*Trade's CEO still holds a reported $105 million worth of company stock.