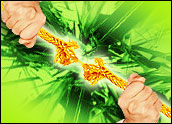 Facebook has found a way around a Google blockade originally set up to prevent users fromuploading their Gmail contact data to the social networking site.
The latest development in the playground spat between the onlinebehemoths reportedly has Facebook exploiting a Googlefeature that lets users download their contacts' data for theirown use. Facebook apparently has provided members a direct deep linkto the download feature that lets them upload the data directly to thesocial networking site, effectively restoring the feature for users despite Google's efforts.
The rift between Facebook and Google is likely to get deeper as bothcompanies battle for online ad revenue.
Neither Facebook nor Google responded to requests for comment by press time.
Doing Business Means Not Having to Play Nice
The disagreement between the two companies surged into the limelightlast week when Google blocked Facebook's access to its APIs andblocked the export of Gmail contacts to users' Facebook pages.
However, the roots of the conflict may stretch back to October, when Google engineer Brian Kennish developed FacebookDisconnect,a Google Chrome browser extension that blocked the transmission ofdata back to Facebook servers through Facebook Connect on third-partywebsites. This extension let users continue to access those-thirdparty sites.
Facebook Connect is a service that lets third-party websites leverageFacebook data by letting users connect their Facebook profile withthose third-party websites. This gives those websites a better chanceof retaining the users as customers or subscribers, a trait known inthe trade as "stickiness."
Google has always let users export data to other sites, but Facebookonly does so on a reciprocating basis with partners such as Yahoo Mail, Flickr and Microsoft Hotmail.
With 500 million users worldwide at last count, Facebook is oneof the few companies that could seriously challenge Google's onlineadvertising efforts, from which it generates much of its revenue.
Competition between the two intensified when Facebook unveiled itslocation-sharing Places feature in August, following Google'sintroduction of location-aware mobile display ads in July.
Location, Location, Location
Location awareness is crucial in targeting advertisements.
"If I can advertise to you online and link you to the store or outletclosest to you, you're probably going to buy more from me," MarieAlexander, CEO of Quova, toldTechNewsWorld. "There's a high correlation between getting inventoryto people who want it and geography, so people are pulling more of thelocation data into their marketing efforts."
Indeed they are. Microsoft, GoWalla and Twitter are among thecompanies that have introduced location-aware capabilities in theirproducts.
Google's attempt to lock Facebook out from its user data "probablyrepresents a growing concern that Facebook represents an increasingthreat because it's vastly stickier than Google," Rob Enderle,principal analyst at the Enderle Group, told TechNewsWorld.
Follow the Money
"Facebook is cutting into Google's online ad revenue, and it'sbelieved that, if consumers were asked to give up one of them, theywould likely give up Google," Enderle said.
"Users have invested more in Facebook than in Google, which makesFacebook the more sticky of the two, and this concerns Google a greatdeal," he added.
There are reports that Google is planning its own social networking sitein an attempt to rectify this situation.
This site, reportedly to be called "Google Me," is likely to belaunched early next year, Enderle said.
Google's Dilemma
In the meantime, Google is faced with having to deal with Facebook'sworkaround of its block. There may be little Google can do to clampdown on the workaround, however.
"Google would have difficulty blocking people from downloading theirown information," Enderle said.
Google might be able to strike a deal with Facebook as Yahoo Mail,Microsoft and other companies have, but that's questionable, Enderlenoted. "Whether or not Google can work out something with Facebook isup to it, but it's demonstrating a lot of arrogance at the moment, andthat can make it difficult to reach an agreement," he explained.
Further, both Google and Facebook have had issues with protecting userinformation, and this may make it difficult for both companies to trusteach other, Enderle pointed out.
Expect more battles among vendors, especially in the online advertising market.
"We'll see more of this fighting among vendors as time goes on," LauraDiDio, principal at ITIC, told TechNewsWorld. "Vendors are going to beincreasingly aggressive in their expansionist goals. This is high-techmanifest destiny for the high-tech industry."