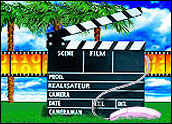 The term "open source" has long been associated with software development, but when the philosophy is applied to filmmaking, it takes on a whole new meaning. As movie production tools become more readily available and groups of creative minds put their heads together on scripts, Hollywood might want to take notice. It seems the open source method of filmmaking is ready for its closeup.
Since the advent of the movie industry, the process has remained largely unchanged. A writer creates a script, finds someone willing to invest money in producing it, and a director is brought in to oversee the film's production.
While that process is still typical of most movie-making ventures, more and more independent filmmakers are turning toward open source tools and methods to produce their projects.
Resource Allocation
For many filmmakers, the economics alone make open source filmmaking an attractive option. When free or low-cost production tools like CinePaint and Blender are combined with free hosting services like Internet Archive, writers and filmmakers are free to focus on film production rather than financing. Some filmmakers are even going beyond simply sharing ideas, and are also sharing the footage they've shot.
"It makes sense [when] resources can be shared and costs can be cut, writer and independent film director Valentin Spirik told LinuxInsider. "I [also] see a lot of potential for remix-related projects where the source footage is used in many different productions. Right now this is a niche genre online, but it might just be the future of interactive storytelling."
Independent films have been historically overlooked in favor of big-name blockbusters, and small production companies have had a difficult time walking in the shadow of mega-bucks movie studios. The success of indie films like "Little Miss Sunshine" and "Babel," the rising viewership of cable television's Independent Film Channel (IFC), and the continued interest in the Sundance Film Festival all point to the idea that for moviegoers, function is far more important than form. Consumers want to be entertained, and they aren't necessarily interested in whether the movie cost US$10,000 or $10 million to make.
That's great news for independent filmmakers who have a great idea but don't have deep pockets. By applying the principals of open source philosophies to movie production, dreams can become reality for anyone with a great idea and a willingness to share in the collaborative process.
Open Source Post Production
Writing a script and shooting hours and hours of footage is only part of the filmmaking process. Once the set has gone dark, the resulting footage must be massaged and tweaked into a final viewable package. Two of the most widely used open source tools in movie production are CinePaint and Blender. CinePaint (formerly Film Gimp) is used for frame-by-frame film retouching, adjusting colors, removing dirt and other tweaks. Though similar commercial software is available, CinePaint was reportedly used by major studios during the creation of movies like "The Last Samurai" and the "Harry Potter," and "Spider-Man" franchises.
Blender, a 3-D animation tool, was used for preproduction work on "Spider-Man 2," and is often used while creating shows for cable television's History Channel. Blender was also the primary tool used to create "Elephants Dream," a computer-generated short film that has garnered worldwide attention in the open source filmmaking industry.
The growing use of open source tools in filmmaking is not surprising considering that most major movie studios have more than a passing familiarity with using Linux as their main operating system.
"Linux is the default operating [system] on desktops and servers at major animation and visual effects studios, with maybe 98 percent [or more] penetration," CinePaint Project Manager Robin Rowe told LinuxInsider. "With the big dogs, there's nobody left to convert to Linux. Every studio is already on board."
Although there are some situations for which Linux is ill-equipped — video playback software tends to be inadequate, for example — open source tools and applications are generally embraced, he noted. "Overall, the film industry is very happy with Linux today, especially compared to where it was eight years ago when they began adopting it as their primary OS," Rowe said.
Additionally, the proliferation of films using open source tools and processes will encourage more mainstream studios to take a second look at the concept, Spirik said. "I think there is a strong general trend towards open source (for example, open source hardware), so sooner or later many productions might take a closer look at open source filmmaking," he added. "It could take a while, but just like in the software world, the big players will get involved once they see that the movement is too strong to be ignored."
Crowdsourcing the Script
Screenwriter Solomon Rothman agrees. Rothman recently wrote and produced the open source film project "Boy Who Never Slept." The open source movie industry has some obstacles to overcome, Rothman noted, but once it does, it will be a force that major movie studios will be forced to contend with.
"Open source filmmaking is not only going to gain traction; it's going to explode," Rothman told LinuxInsider. "Right now, it's lacking the critical exposure to create a structured community and technology to effectively harness all the creative energy from individuals that would love to participate.
"When more standard and advanced real-time collaboration tools are widely available (like online movie editing software) in combination with self-organized communities, that can enable an entire team of individuals working together to efficiently work together on a filmmaking project. Open source filmmaking will blast into the main stream and forever shape the way we view the filmmaking process," he stated.
In the end, a film's success is not always about the method used to develop it or the tools used to process it. It boils down to the fickle finger of mass appeal and the art of good storytelling.
"Viewers won't care so much about the open source aspect of a production, but will want to see a good movie," said Spirik, "so it is still all about telling a good story well."
---
This story was originally published on May 10, 2007, and is brought to you today as part of our Best of ECT News series.
---