Five9 has introduced Summer Release 2014, the latest version of its cloud contact center software.
The company's first major release since its 8.1 launch last year, it follows Five9's acquisition of SoCoCare, a social engagement and mobile customer care provider.
SoCoCare's feature set is part of the basis for the new release. "We have integrated it and expanded it," Liz Osborn, vice president of product and solution marketing at Five9, told CRM Buyer.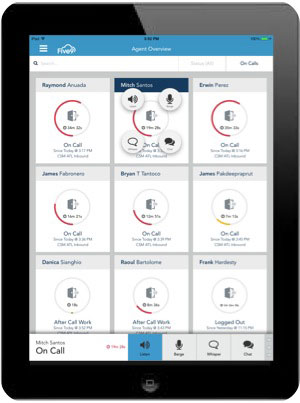 As a result, Summer Release 2014 is now a multichannel desktop app supporting social, mobile, chat and email, along with its traditional inbound, outbound and blended voice capabilities.
Key to the new release is an intelligent technology layer, Five9 Connect, which helps user determine what's important, relevant and trending so they can determine how best to prioritize, route and assign requests. It also powers the application's ability to resolve issues and improve conversion rates.
Five9's Summer Release 2014 follows the company's public debut on April 4, in which it raised some US$73 million.
"That was a significant milestone for us as well," Osborn said.
The company plans to use the proceeds to invest further in its product development.
"Our goal is to have two major releases every year and two minor releases. We are accelerating our time to market for product innovation, in short," noted Osborn.
The next update — Winter Release 2015 — has been tentatively scheduled for Q1 of 2015. That application will deliver significant new functionality as well, Osborn said, although she declined to discuss specific features.
Easy to Use, Agents Start Quickly
Summer Release 2014 is a good jumping-off point for these future plans, said Osborn. It "is the first step of a bigger vision we have of being a smart cloud contact center. It also touches on the core of our big value proposition, which is that we are easy to use and agents are able to start quickly using our desktop."
The average deployment is six to eight weeks, she noted, a crucial competitive differentiator in an industry in which application complexity can hinder good customer service.
One key feature in this version is a unified agent desktop that provides the ability to service all of the channels supported — social, voice, chat and mobile — from the same desktop.
Another element is Five9 Social, which provides social media engagement capabilities and insights based on typical contact center key performance indicators.
Five9 Mobile Care, also part of the new release, includes Five9 Visual IVR, Five9Visual Customer Feedback, Five9Chat, and Five9 Email.
Five9 Visual IVR is a visual dialogue for smartphones that gives customers an idea of how long they'll be on hold. It offers them the choice of getting a call back or connecting connect via chat or email.
Five9 Visual Customer Feedback gives customers the option of providing feedback at the end of a session.
Tools for Management
Summer Release 2014 offers new tools for managers to use, including the Five9 Dashboard, a customizable offering that lets supervisors see real-time updates for defined KPIs.
There is also the Five9 Supervisor App for iPad and new reporting tools for the multichannel environment that, among other things, allow supervisors to track service level agreements and other KPIs.
Five9's Secret Weapon
Powering all of this is the feature Osborn calls Five9's "secret weapon" — the Five9 Connect platform.
It has a natural language processing engine that mines social posts, including RSS feeds, for conversations relevant to the customer, she said. "It is able to look at the meaning behind the words and start categorizing them. It also is able to identify trends and analyze sentiment — positive or negative or neutral."
Perhaps best of all, from the agent standpoint, it automatically picks away all of the spam that such trolling inevitably gathers.
Five9 Connect has a business rules engine for such tasks as identifying high-value customers and setting responses to standard situations.
In addition, it comes with agent tools to help them resolve issues quickly.