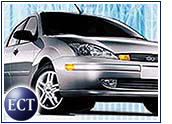 Ford Motor Company (NYSE: F) heard from the U.S. Court of Appeals this week that its pre-owned vehicles Web site wasoperating in violation of Texas state laws.
Working in partnership with auto dealers in Houston and in five other U.S. cities, Ford's site — called the Pre-Owned Showroom — violated the Texas Motor Vehicle Commission Code, according to the opinion handed down Monday by the U.S. Court of Appeals for the Fifth Circuit.
"We are disappointed with the court's decision," Ford spokesperson Kristen Kinley told the E-Commerce Times. "But we take solace in the knowledge that thejudges recommended we take our case to the Supreme Court."
The online showroom allowed consumers to shop for pre-owned vehicles and have them shipped to local dealers for test drives. However, Texas legislation permits car sales only by state-licensed dealers and prohibits a manufacturer from acquiring a dealer's license.
"It is irrelevant under [the code] whether Ford, as a manufacturer, is domiciled in Texas or Michigan," stated the Court's published decision. "In either circumstance, it is similarly prohibited from engaging in retail automobile sales in Texas."
License To Sell
As argued in 1999 by the state of Texas and affirmed this week by the Court of Appeals, the Texas Motor Vehicle Commission Code makes it unlawful for manufacturers or distributors to directly or indirectly operate as dealers or obtain licenses to do so.
Additionally, under the same law, it is illegal to "engage in business as, serve in the capacity of, or act as an automobile dealer without first obtaining a license," thus planting Ford and other manufacturers on the sidelines of the Texan auto retail market.
Ford launched the Showroom in 1999 to tap into a profitable market to re-sell its pre-owned vehicles. The automaker entered partnerships with dealers in Houston, Texas; Atlanta, Georgia; Boston, Massachusetts; Newark, New Jersey; Washington D.C. and New York City to manage test drives and transfers of titles to customers.
But on November 2, 1999, the Texas Motor Vehicle Division fired warning shots by lodging formal complaints with the Texas Motor Vehicle Boardregarding Ford's alleged violation of state laws.
Border Patrol
Ford promptly filed a suit in federal court seeking to quell the Texas Motor Vehicle Division's claims, and the case eventually landed in the appellate court that entered the opinion against Ford.
Ford argued that the Texas law "discriminates againstout-of-state interests and amounts to nothing more than economic protectionism."
However, not swayed by Ford's pleas, the court declared that the law "does not protect dealers from out-of-state competition, it protects dealers from competition frommanufacturers. [It] prevents manufacturers fromutilizing their superior market position to competeagainst dealers in the retail car market."
Fine Print
Ford also argued that competitor General Motors (NYSE:GM) was operating a similar auto retail site in Texaseven though it was dodging regulators' fire. Ford suggested that"no rational basis exists to justify differentialtreatment between Ford's Showroom and a similar Website program named GM DriverSite."
However, the Court dismantled this argument as well, pointing out that GM had contracted with independent licensed dealer DeMontrond to operate the Web site.
The contract differed from the one Ford inked with its dealers, in that DeMontrond immediately received title to the cars offered for sale, whereas Ford's dealers onlyreceived titles after customer payment or financing approval.
Distinguishing Characteristics
If an automobile was not sold, DeMontrond, not GM, was responsible for finding an alternative means of selling the car, which evidently made all thedifference in the eyes of the law.
Further, DeMontrond's online price for the vehicle wasestablished through the use of a mutually developedpricing schedule, which further distinguished the GM site from the Ford site under the law, the court reasoned.
"Ford, on the other hand, has sole discretion to set the price for its vehicle," the court said, "a price which may influence the price of other pre-owned vehicles being soldthroughout the State [of Texas]."