Eye candy can be a great user experience sweetener, but tastes vary widely as to how much is just enough, and it's one differentiator among Linux desktops.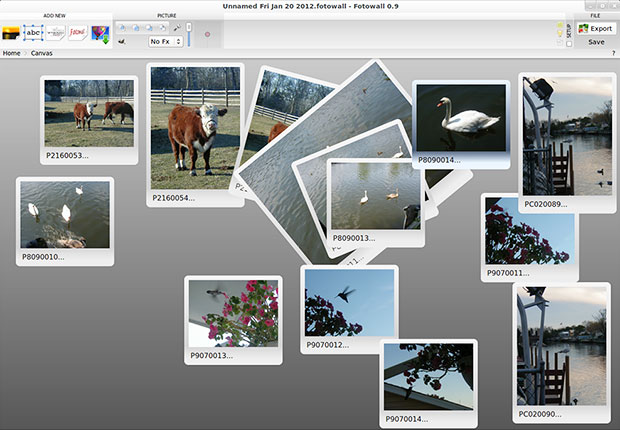 Fotowall
Fotowall is a handy app that can spice up your desktop as well as create personalized print and wallpaper displays.
Fotowall is a really clever collage-making tool of sorts. Its simple point-and-click interface is actually fun to use. But it comes with no on-board help file. The home page support is practically nonexistent. However, if you play around with this app for a few minutes, you will find that you really do not need a user manual.
I have not found many collage maker apps for Linux. A few websites offer some of what Fotowall does. Shape Collage and online solutions are not as easy to use, so their additional feature sets get lost in the shuffle.
What It Does
Fotowall lets you design from scratch a montage of photos and word blocks. You can add special visual effects to individual photos as well as the entire canvas.
This app lets you extensively play around with the canvas design. The result is stunning and personalized photo displays that can be saved as screen backgrounds or exported as poster art.
Fotowall uses the steps you would follow in working with physical photos on a poster board. So you can import pictures from your own digitized collection or import them directly from the Internet. Plus, you can add text, adjust stacking and rotate as well as resize images.
The list does not end there. You also can apply presets for CD/DVD Covers, apply decorations and set titles. Adding backgrounds is easy.
Growth Factor
The Fotowall project is very new. I reviewed version 0.9, which was released early last year. Version 1.0 was released in May 2011. But I would stick with the previous stable version. This is the one populating most download sites and distro repositories.
The project has a dual development track. The driving force behind Fotowall is Enrico Foss, the author and maintainer. Despite its newness, Fotowall is surprisingly functional and very easy to use. Its latest improvements include PDF exporting and easy printing.
Two development teams are working independently on improving Fotowall. One group is focusing on the app's physical traits; the second is working on the user experience with a focus on touch and gestures.
Designing Factors
Fotowall has a rather unique look and feel. Its simple interface relies on clusters of function panels rather than rolling lists of drop-down menus.
This sparse interface makes it easy to apply effects, adjust contrast, color, brightness and grayscale without taking your eyes off the canvas. It also makes cropping and editing seamless.
Control Panes
All the design tools are sectioned off in menu pane at the top of the app window. These are Add New, Canvas, Setup and File.
The Add New box is on the left. It holds buttons to add new photos, add text, add wordcloud, add canvas and search the Web for photos.
The canvas pane has options for the appearance and purpose of the finished product. The options are exact size, desktop and cover art for CD/DVD. Background settings involve canvas color (gradient, white, black or none) along with three choices for handling aspect ratios.
You also can set photo decorations and arrangement on the canvas. Two other minimal panels are Setup (for selecting transparent windows and using OpenGL) and File (to Export the creation of save it).
Designing Features
Using Fotowall is similar to playing in basic poster-designing software. For example, you build your Fotowall creation by "importing" photos onto the canvas, embellishing the artwork and arranging the design your way.
Your source of photos comes from your own digitized collection or a Web-integrated photo search feature. Similarly, you place text boxes wherever you want and modify the font and characteristics.
You can adjust each element on the canvas to contribute to an overall Fotowall design. You can grab images from Flickr and Google Images from within Fotowall.
Cunning Canvas
The ease of using Fotowall stems from its real-time design canvas window. You place photos and text directly where you want them. Then you apply the effects to your eyes' pleasure.
Images and text are draggable, clickable objects. To add photos just click the Add Pictures icon in the Add New Pane and select the images of your file-picker list. Click on the photo to open an editing pane to access photo editing tools.
Fotowall gives you full control editing for both the canvas and its individual objects. For example, you can rotate each item or resize them. Plus, you can change their opacity, perspective on a 3D plane, change the caption them or add text over them.
Design It
Working with each canvas object could not be any easier. The task mimics hands-on activity.
Placing the mouse pointer over a photo or text block activates handles in each corner. Left click any of these touch points to rotate, enlarge or shrink the object. Left click on the center of the object to grab it and move it around the canvas.
Place the mouse pointer in the lower right edge of each object to get more design controls. There you can click icons to open additional features, much like accessing editing functions in a word processor.
The Wordcloud feature is pretty cool. It places what is essentially a splash box of word phrases on the canvas. You can flip, rotate, or edit the contents of the word cloud block. You can even place wordclouds over a photo or overlap the objects.
Bottom Line
Fotowall's easy interface makes creating digital collages a snap. It can import and export most popular image types.
It can also export to SVG vector imaging and creates posters in PosteRazor format. You can also export the collage as wallpaper for your computer screen.