It is with no small sense of regret that Linux Girl brings you this week's Linux Blog Safari, dear readers, because in writing it she must convey some very difficult news.
Namely, Linux Girl is departing LinuxInsider — her home away from home for lo all these years — and so must hang up her cape for good. By the time you read this, she'll be off on new adventures — traveling new lands, telling new tales and testing new tequilas.
She'll miss you dearly, oh loyal fans!
Hello, MintBox Mini!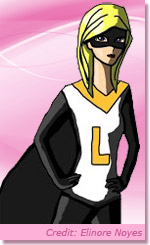 Of course, there's still time for one last whirl around the blogosphere, and this time, Linux Girl would like to do something a little different.
The past week has, of course, afforded plenty of fodder for conversation here in the Linux blogosphere, as it always does. The MintBox Mini, the Steam for Linux file-deletion bug, and the latest in the Systemd saga — here and here — are just a few examples.
However, as Linux Girl's cape-clad hours dwindle, it seems like a good time to revisit some classic Blog Safari gems from days gone by.
As chance would have it, several of Linux Girl's favorites focus on a theme that's particularly relevant round about this time of year. Can you guess? That's right — it's the oh, so sweet spot that can be found at the intersection of Linux and Love.
'I Must Help Keep Our Lineage Alive'
Reaching all the way back to 2008, "SWM, Shell User, Seeks Soul Mate for GUI-Free LTR" is one of Linux Girl's all-time favorites from over the years.
"I am part of a dying breed of people known as 'shell users,'" wrote the anonymous poster of the ad that inspired that week's column. (That very ad, dear readers, is still up on Craigslist's "Best of" section today!) "We are an old-fashioned bunch, preferring the warm glow of a green screen full of text over the cold blockiness of a graphical interface….
"Because there are fewer and fewer of us, I must help keep our lineage alive," the shell user went on. "I am looking for someone to help me do this. I need a woman (obviously) who is willing to raise a child with me in the method of Unix."
'Please Help Me'
Now, it was of course all tongue-in-cheek — not to mention dripping with stereotypes and based on a world where Linux geeks are all men. Nevertheless, Linux Girl couldn't resist asking her fellow barmates: Do Linux geeks need help with the human factors?
Her favorite response: "I hate to make broad generalizations about hundreds of thousands of people, but yes," Slashdot founder Rob Malda told her. "Yes we do. Please help me."
Asked if Linux and romantic relationships with women were mutually exclusive, "I'd ask my wife if she'd let me out of my box," Malda quipped.
'More to Life Than Bash Scripts'
Fast-forward two years to "The Dating Game, Linux Style," circa Valentine's Day 2010. This time, it was longtime FOSS hero Ken Starks who bravely ventured into the waters of amour.
"When Linux nerds choose mates from the Windows herd" was the title of the post Starks wrote that kicked things off, and it takes only a little imagination to envision how things proceeded.
"You come to realize that there is more to life than bash scripts and LAN parties with other Linux Geeks," Starks began. "So you decide to put yourself back on the dating market."
Oh, the humanity!
'Easier Than Making a Date'
"You know … this thread is beyond pitiful," wrote tuxchick on LXer. "No wonder we're all still single, living on Cheetos in our mom's basements," she added.
"Ugh. Ineptitude in social interaction and ineptitude in Linux proselytization in one package," was Hyperlogos blogger Martin Espinoza's take. "It's like a train wreck that's hit an orphanage."
Then again, "apt-get install is much easier than making a date," blogger Robert Pogson very reasonably pointed out.
'I Offered to Put Linux on Her Laptop'
Finally, it was 2011 when Linux bloggers turned their attention to the romantic adventures of Jeff Hoogland, who was then lead developer on the Bodhi Linux project.
"A few weeks back the girl I have been dating for awhile now had idly made a complaint about her laptop being poky at certain tasks," Hoogland began. "I'd used the thing once or twice to check my email and recalled it was running Vista — no surprise there.
"I like this girl a lot and figured it was time to take that next step in our relationship," Hoogland continued. "I offered to put Linux on her laptop."
'I'd Be Sleeping on the Couch'
Yep, that's how it went down, and in "Introducing Your Honey to Linux," bloggers weren't shy with their reactions.
"Man I can imagine what would happen if I tried that" Slashdot blogger hairyfeet exclaimed. "I'd be sleeping on the couch!"
And with that, dear readers, Linux Girl would like to thank you for many wonderful years of laughs, learning and love here on the Linux Blog Safari. May the FOSS be with you always!