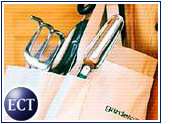 Garden.com (Nasdaq: GDEN) was down 3/128at 5/128 after the e-tailer said it expects its stock to be delisted fromthe Nasdaq Stock Market.
The Austin, Texas-based seller of garden products said it could be offNasdaq by February 9, 2001, or sooner if shareholders at a meeting January 8thapprove a planned liquidation. The company has failed to meet Nasdaqrequirements of a minimum bid price of $1 per share and minimum value of $5million.
In a statement issued after the close of trading Monday, Garden.com said ithas "substantially completed" the sale of its inventory, and has receivedbids from "several third parties" interested in buying its assets. Thecompany is also seeking bids for the sale of some of its technology assets.
Garden.com said in November that it would cease operations,selling its product and technology assets and laying off its 153 employees.The company said Monday that it now has 47 employees, who are in the processof completing customer orders, processing returns and resolving credit-cardissues.
Garden.com, founded five years ago, has served the $47 billion homegardening market through its Web site and catalog operations. The companyraised US$49.2 million in its initial public offering in September 1999, andsaw its shares rise as high as 15 at the end of that year.
In recent months, however, the company began to run out of cash, and soughtnew sources of funding. When steps to cut costs or find a buyer failed, thecompany decided to close up shop.
Separately Monday, Garden.com said its 80 percent-owned subsidiary GreenCheetah, Inc. has completed tests of its FastSQL software fordatabase-centric e-business systems. The tests showed "significantimprovements" in performance, Garden.com said.