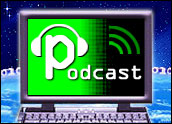 Easing into the role of full-time philanthropist, Microsoft chairman Bill Gates delivered his final keynote address at the annual International Consumer Electronics Show in Las Vegas this week, giving the audience an earful of predictions for the next decade. High-definition video will become ubiquitous, devices will become more interconnected, and keyboards will drift off to oblivion. The growing use of touch screens signals the beginning of that trend, according to Gates.
Leading chipmaker Intel now has another accuser crying foul — New York Attorney General Andrew Cuomo. The AG's office issued a subpoena seeking documents and other information on Intel's business practices to investigate whether the company coerced its customers into not buying chips from rival AMD. Intel said it will cooperate with the subpoena and defended its business practices as "lawful." The antitrust allegations echo other cases — including a civil lawsuit brought by AMD.
---

Listen to the podcast (16:30 minutes).
---
Spam King No More
The Spam King has been dethroned. A Michigan grand jury indicted 52-year-old Alan Ralsky — the latest to wear the dubious crown — along with 10 other alleged conspirators in a scheme that used bulk e-mails to pump up stock prices. Fellow Michigan residents Judy Devenow and Ralsky's son-in-law, Scott Bradley, are among the accused. The eight others reside in California, Arizona, Canada, Hong Kong and Russia. Bradley and Devenow were arraigned Thursday. How Wai John Hui, a dual citizen of Canada and Hong Kong, was arrested last week. The remaining defendants are still on the loose. In addition to violating the CAN-SPAM Act, the 11 are accused of mail fraud, wire fraud and money laundering. Although it's not clear how much the spam ring hauled in, the Justice Department says they earned $3 million during the summer of 2005 alone. Ralsky insists he hasn't done anything illegal. That's what he said in 2002, when he forked over $700,000 to settle a case brought by the state of Virginia, which claimed he sent tens of thousands of law-breaking messages over the Verizon network. I guess for some people, spam is just too tasty to give up.
One Laptop Per Child and Intel have split over irreconcilable philosophical — and perhaps financial — differences. Essentially, OLPC wanted Intel to agree not to support competing low-end notebook computer platforms, but Intel wants to sell as many of its processors as it can. So now there's an opening on OLPC's board and an AMD processor in its XO Laptop for kids in developing countries. The breakup got nasty when OLPC put a statement on its Web site accusing Intel of going behind its back to issue a press release and complaining that Intel contributed nothing of value to the OLPC effort. Intel CEO Paul Otellini responded by calling the accusations "hogwash."
Closed. Kaput. Gone fishing. Startup Frontline Wireless folded this week, and the news came as something of a shock to the industry, as the high-profile startup played a conspicuous role in the Federal Communication Commission's rule-setting for the upcoming 700 MHz wireless spectrum auction. Just last month, Frontline confirmed that it planned to bid for some of the spectrum, but it failed to raise the $128 million down payment due on Jan. 4. That apparently prompted the firm's closure. Frontline's demise raises the question of whether any but the biggest, most established wireless players will attend the spectrum auction party.
Sony BMG Drops DRM
Sony's music and movie divisions have been busy. First came Sony BMG's announcement that it will dump digital rights management restrictions from some of the songs it sells online. This makes it the fourth — and final — major record label to take this step. Of course, being the last company to follow any particular path doesn't exactly make an organization look innovative, but the news came just a week after Warner Music took the plunge. At first, it appeared that Sony's DRM-free tracks would only be available in an odd — and, some would say, ridiculously inconvenient — way. Early in the week, the label announced its Platinum Music Pass system, its way of selling high-fidelity online music that plays in any music player. The Platinum Music Pass would require customers to get off the couch and go to brick-and-mortar stores to buy music vouchers, then go back home and use the cards to buy DRM-free songs online. Why someone wouldn't just buy a CD and rip it at home is anyone's guess. Later in the week, though, the company divulged it would also sell DRM-free music through Amazon.com's online music store.
A clearer win for Sony was Warner Brothers' defection to its high-def Blu-ray DVD format. That decision led the Financial Times to dig up information on a clause built into Paramount's contract with the HD DVD camp that gives it the right to go Blu-ray if that's where Warner lands. The paper alleged that's now exactly what Paramount intends to do. But Paramount issued a quick denial and said it's sticking with HD DVD. So when will we have a winner? Gartner analyst Van Baker told ECT that all this business with Warner and Paramount doesn't make a whole lot of difference unless and until Universal turns away from HD DVD, which it has backed since day one. A late-week report in Variety, though, says Universal is about to bail, which would pretty much seal the deal in favor of Blu-ray and give lots of people an excuse to buy a PS3.
A press release can sometimes generate buzz about a product, but you have to really be careful what you put in print, especially when you start talking about other companies — and especially when they're much bigger than you. When Dutch developer Engine Software wanted to promote a new game that would be available through Nintendo's WiiWare service, it mentioned in its release that WiiWare was "scheduled to be launched in March 2008." That created some excitement among gamers, who have been eagerly awaiting WiiWare, a special online service that will let smaller developers create and offer Wii games. However, the announcement did not sit well with Nintendo, which told ECT News that Engine's information was, "incorrect and unconfirmed." An Engine representative told us that Nintendo has often hinted at a March timeframe for WiiWare's release — in Japan, that is — and acknowledged that, in retrospect, the wording probably should have been more precise.
'Logic Bomb' a Dud
When you think you're about to get laid off, do you a) keep working and tell yourself it's all in your head, b) scour the Net for openings and try to land yourself a new job before the ax falls, or c) attempt to wipe your company's servers clean with a logic bomb that could put peoples' lives at risk of lethal drug interactions? Yung-Hsun Lin, formerly a systems administrator for Medco Health Solutions, chose option C, and got himself 30 months in prison — the longest federal jail sentence ever given for such a crime. He will also have to pay over 80-thousand-dollars in restitution. Lin told the court that when Medco was being spun off from Merck years ago, he was afraid he was about to be laid off. So he added and modified code on the company's computer systems designed to wipe vital company data off its servers on his birthday, April 23, 2004. The attempt failed, though, and it turned out Lin was never set to be laid off anyway, though it's clear he'll never work there again. Had he succeeded, Lin would have caused more than just a lot of headaches for the rest of his IT department. One of the areas targeted by the dud bomb was a patient-specific drug interaction conflict database, which is vital for pharmacists looking for potentially harmful combinations of drugs their patients are taking.
The bizarre and controversial case of a Missouri teenager who killed herself after being bullied on MySpace — allegedly by the parent of a peer — has reportedly shifted to California, where the social networking site is based. A federal grand jury in L.A. issued a subpoena to MySpace, apparently in a new effort to explore possible criminal charges against the parent behind the hoax. The story of Megan Meier's suicide exploded onto the national scene last fall, after it was revealed that Lori Drew, the mother of a classmate and former friend of the 13-year-old, had been masquerading as a 16-year-old boy to engage her in online conversations that turned ugly. Officials in Missouri investigated the case but never filed charges against Drew, saying there was no existing law under which they could charge her. Prosecutors in the U.S. attorney's office in L.A. may now be exploring whether Drew can be charged with fraud for misrepresenting herself through the MySpace account. Drew has admitted to police that with the help of a third party, she established a MySpace account and contacted Meier, but claims she did so just to monitor what the girl was saying online about her own daughter after the two girls had a falling out.
Thanks to such compelling content as "Obama Girl," "The Dramatic Chipmunk" and "Leave Britney Alone," video-sharing sites have enjoyed a doubling of their traffic over the past year. A study by the Pew Internet & American Life Project found that the number of Internet users who had visited a video-sharing site the day before being surveyed nearly doubled — from 8 percent in 2006 to 15 percent in 2007. The results of the study indicate that video-sharing sites are becoming more mainstream. Women are the main drivers of the trend, Pew found, possibly reflecting their increasing willingness to embrace new online features — particularly those involving communication.
Also in this episode: Microsoft buys Fast Search and Transfer; Intel shows off its Penryn processors; One Laptop Per Child and Intel have a nasty split; investors stay away from chipmaker stocks; Wii wins the holiday sales race; the FCC investigates Comcast; Apple equalizes iTunes prices in Europe; Wikia Search debuts to poor reviews; Yahoo launches a mobile developer platform; and Comcast launches its online outlet Fancast.