With every passing week, reports on box-office receipts come with the same anxiety as industry watchers, film companies, content owners and theater managers assess if the current year will meet or exceed the previous one. Successes like "The Hunger Games" are tempered by disappointments like "John Carter," and embedded within each lackluster debut is the hope of compensatory revenues through later release windows, including cable, streaming, VOD, DVD/Blu-ray, and now "cloud copies."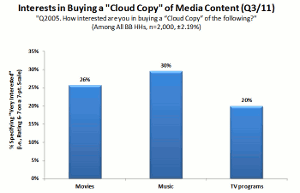 (click image to enlarge)
Releasing a movie as a "cloud copy" is becoming increasingly common although (with good reason) it is usually bundled with a physical copy. In general, consumers still prefer physical media, but interest in cloud copies and the digital locker concept is growing, mainly among younger demographics.
Roughly 25 percent of U.S. broadband households show some interest in buying cloud copies of media, with the level higher in the 25-34 age segment. This interest follows the overall rise in use of online video. In total, 16 percent of U.S. broadband households have abandoned either TV channels or DVD/Blu-ray discs in favor of Internet video.
United States of Video
Close to 20 percent of all U.S. broadband households do not use any form of disc for their video viewing. However, the overall market for cloud copies is still in its early stages, and consumers do not value cloud copies at the same level as physical media, as indicated by the lack of willingness to pay a premium for cloud copies.
Instead, they prefer cloud media offered at a small discount or as part of a package, bundled (at no additional charge) with a physical copy. Nearly one-third of U.S. broadband households want to own a physical copy in addition to a cloud copy. These combo packages and pricing discounts must be there to alleviate consumer concerns about adoption of a new, unfamiliar format.
Another reason for this lower value perception is that interest in "alternative" platforms for cloud media and services has still not fully matured. The PC is still considered the key platform for the cloud, and interest in accessing cloud content from mobile phones, tablets, and TVs is relatively lower. This finding undercuts a key benefit of cloud copies, namely the ability to access and download the content on multiple platforms in a variety of settings.
Key Pricing
Consumers do recognize the limitations of physical media — discs get damaged, lost or stolen — so the financial incentives necessary to boost interest in cloud copies are not too excessive. Offering a cloud copy at a discount of US$2 less than the price of a Blu-ray disc increases its appeal to consumers. Such discounts will be necessary to move this developing market from limited value to broader adoption.The average broadband household spends approximately $35 per month on video. At this stage, it will be difficult for cloud copies to get any but a small part of that.
A discounted cloud copy could accomplish two end goals. First, it would at least get more people watching a specific movie, which could give a movie renewed life outside the theater (e.g., "Office Space"). Second, it would help prime the pump for cloud media, and this would benefit the industry as whole and all content owners and media companies.
If the digital locker concept is to establish itself, industry initiatives such as DECE/UltraViolet need to invest in promoting and educating consumers about the advantages offered by this centralized virtual storage and access model. One way to educate consumers is to give them something to store in their newly minted digital locker and have the experience of ubiquitous content access and video viewing on different platforms, including tablets and smartphones.
The industry needs to lower its expectations for cloud copies at this stage and adjust its plans accordingly. Many movies may lose money up front, but in the end, these films could be a different kind of trailblazer, helping nudge consumers in the direction of the cloud.