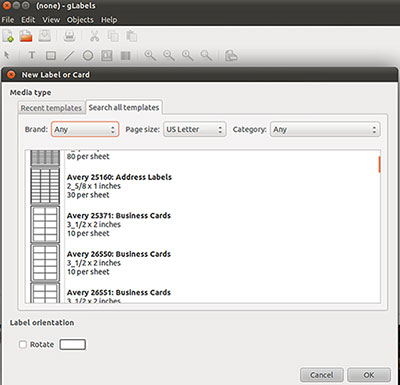 gLabels
It is rare that I lament about a task I cannot do in Linux better than when I used that Redmond OS that rhymes with lindows. But you can hear me pining for those commercial and shareware programs every time I have to create a printing job around business cards or mailing labels on my Linux rigs.
For many of these specialized label and card-making jobs, gLabels is a very workable solution. It is not a perfect replacement for the plethora of consumer-driven commercial Microsoft Windows programs. But gLabels adds a more polished way to create business cards and mailing labels than is possible in the OpenOffice or LibreOffice word processors, drawing apps or in other basic illustration apps such as Scribus.
For my money — OK, I know, open source software is free — attracting more home user converts to the Linux desktop is hindered by a lack of card-making apps. This is a big potential niche area for an enterprising developer team. If the gLabels developers would add a greetings card component, this Linux app would be a near-perfect solution.
gLabels is a lightweight program useful in creating labels and business cards for the GNOME desktop environment. It is a bit kludgey if you run it on the KDE desktop. But I have not had much trouble in running it on my xFCE-based netbook. The .pet formatted version created by a Puppy Linux officianado works well for me as well.
I especially like the vast number of templates for laser and ink jet labels and business card sheets that are bundled in this app. The creation wizard is a handy way to jump start making labels and cards quickly.
Look and Feel
gLabels version 3.0.0, released last month, is not much different from earlier versions — not different, just better performing, that is. It contains a host of fixes that make it much more stable than its infant brethren.
The opening window looks much like a basic drawing app. For instance, The file menu row at the top of the window includes File, Edit, View, Objects and Help. The row below that shows icons to create a new file, open an existing file, save, print, cut, copy and past. These tool and icon rows provide fast access, thus eliminating the need to scroll through the drop-down menus from the top row's Edit, View and Objects listings.
Creation tool shortcuts fill the third icon row. These give you quick access to expected functions, including selection tool, create text and object boxes, various drawing tools and magnification modifiers.
The tool row at the lower edge of the window lets you select font and point size, and set bold and italics. You can also change text, fill colors and line width with a click. Aligning text and images is as simple as clicking a button for left, center and right.
Once you start to fill in a label or business card design, you can access more refinements by selecting an object you've created and clicking the Box Object Properties button. This opens an additional menu box where you can select tabs for Line, Fill, Size, Position and Shadow Effects.
Minimal Setup
gLabels offers little in the way of program preferences. This is a good thing. You have few decisions to make when you do not know much about how the app works.
What you can set as defaults under the Locate tab are the use of points, inches or millimeters measurements and the page size of US Letter or ISO A4. Under the Object Defaults tab are the preferred design elements. These are the same elements that you can modify as needed when you click the Box Object Properties button mentioned above.
Being able to set these appearance elements makes repeat creation tasks easier and quicker. It eliminates the need to rethink or redo any corporate design styles that might exist. Setting these defaults helps you to maintain a consistent business image, even if you are a one-person home office entity.
Extra EZ
One of the nice extras built into this app is the ability to have multiple creation windows open simultaneously. If you merely close an open gLabels window, you exit the program. But click on File/New or the New icon to add a new project design window while keeping the others open.
If nothing else, you can open a new screen and then click the close X on the existing window to get rid of it. An advantage to working with multiple open windows is the ability to drag graphics and text boxes — or copy and paste them — from an existing design to a new design. This can make adapting or modifying a label or card fast and furious.
Another really nice feature in gLabels is the ability to create a bar code on a label. You get to this feature by scrolling the options in the Objects/Create/Barcode drop-down menu.
Wizardry Wonders
Newcomers to the designing game can start using gLabels with very little head-scratching. You can thank the Template Designer feature in the File menu for this.
This creation wizard makes short order of what could be a daunting task of creating custom templates. The wizard guides you through a series of pages where you enter the Brand/Manufacturer's name and part number for the label sheets you are using. You can also add a descriptive tag to distinguish each design project you create.
The pages let you select page size, label or card shape and size as well as the number of layouts your template will contain. Then you select essential layout information by scrolling through the choices for the number of labels up and down, their distance from the sheets left and right edges and the horizontal and vertical pitch settings.
A two-dimensional view shows the orientation in a display window as you make your choices. You can even print a test sheet.
Missing From Action
What you do not get in gLabels is a library of sample labels and cards. Nor do you get a graphic library of pop-in graphics. These two items are sorely missing from this app.
Of course, having even a few working samples beyond the ample supply of manufacturer's labels would be a boon to consumers and small-business users. It is always easier to modify a sample file than it is to create one from scratch.
And being able to import some basic graphics images would add to the wow factor of this app. No doubt the original intent of gLabels' developers did not see this as a need.
Bottom Line
In a category where Linux leaves a gaping hole, gLabels at least offers a workable solution. It does not take much of a learning curve to create basic labels and business cards with this app. But you should expect some false starts and a bit of trial and error. The wizard helps to keep this at a minimum, however.
gLabels is a good starting point in a category that is largely ignored by FOSS developers. But it has the potential of doing much more than it currently provides. A few bundled sample files and the ability to create greeting cards could make the next release of gLabels a killer Linux app, at least for ma and pa shops and newcomers to the Linux desktop.