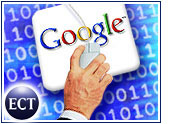 Adding another weapon to its technology arsenal in the ongoing search engine wars, Google has announced the acquisition of privately held Applied Semantics for an undisclosed sum.
Santa Monica, California-based Applied Semantics builds software that allows ads to be targeted to match the content of a Web page. One of its longtime customers is Google competitor Overture.
Google did not reveal specific plans for Applied Semantics, which was founded in 1998 and has about 40 employees.
The acquisition comes on the heels of Google's launch of a targeted ad service using its own in-house technology. That effort was designed to win market share from Overture, which pioneered the custom ad market and has been aggressively trying to protect its turf with its own series of acquisitions.
Google co-founder Sergey Brin called Applied Semantics "a proven innovator" and said the acquisition will enable Google to create new and "more useful" technologies for existing and new Web partners.
Profit Potential
Like paid listings returned with search results, the targeted ad market represents the best potential for a profitable search engine business. Nielsen//NetRatings senior analyst Lisa Strand told the E-Commerce Times that even though search engines have attracted millions of users each month for years, they only began to be seen as sources of revenue after moving away from traditional banner ads.
"The consumer has not really had any negative reaction to paid listings," Strand said. "Consumers are savvy and realize someone has to pay for the information they're getting. They are willing to exchange a few ads for something they perceive as having value."
Friendly Reminder
In fact, just as Google announced its deal, Overture was reporting its quarterly earnings, providing a reminder of why the market for paid listings is so hotly contested.
Overture posted a profit of $11.1 million for the first quarter. Although that figure is well below earnings of $29 million in the year-ago period, it came on the back of a 57 percent increase in revenue, to $224 million.
Overture's outlook for the rest of 2003 was relatively cautious, however. Although the company still expects sales to rise 50 percent over 2002 levels, approaching or even topping the $1 billion level, Overture also said several factors, including costs associated with several recent acquisitions aimed at improving its products, will drag down profits. For example, the company recently bought onetime search heavyweight AltaVista for $140 million.
"We believe that the investments we are making now will position Overture to be one of the few major players in search and performance-based marketing," Overture CEO Ted Meisel said in a statement.