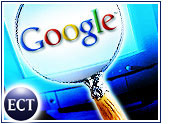 Some ideas are so genius they're downright obvious. They're the ones that make you slap your forehead and wonder aloud why you didn't think of it first. Even worse is when you did think of it but didn't do anything about it.
That had to be the reaction across the Web search industry when word of Google's Deskbar began to circulate. The tool, which puts the search box right onto the desktop, is the kind of quantum leap forward that marks all great technological evolution. Search is now officially too big for its browsers.
Don't Box Me In
Google has busted through the equivalent of the invisible wall those mimes are always pushing against. Every search engine has put its hands against this fake wall, but Google was the first to bust through and win the chance to claim a lot more real estate for itself.
Microsoft almost certainly has had the same thought, and word is that thecompany plans to provide a similar type of integration when Longhorn finally reaches shelves, but that's more than a year away. By then, Google will have stuck a flag in anything not moving in the search sector.
Google is a bit coy about the whole thing, calling it an experiment, a test. But everything the company does is a test, to some extent. Google News still has a beta tag on it well over a year after it went live. Beta or not, millions of people use the feature, just as they use Google's Froogle shopping search service, which also is supposedly still in beta.
Beta Is Better
Maybe calling these things beta tests makes them seem less threatening. Who knows? But they are all threats to Google's competitors — and none more so than Deskbar.
The best and most insidious part about Deskbar is that it out-Microsofts Microsoft. After all, the software giant is always talking about knowledge workers and how .NET and all of the other improvements to its products are going to help people do their jobs more efficiently.
What's more efficient than a Web search box beckoning right there on the desktop, regardless of what program a user is working in? The immediate benefits are plentiful, but the long-range upside for Google is what really boggles the mind. If Deskbar works — and what has Google tried that hasn't? — search will become second-nature, an integrated part of everything people do with their software, from word processing and e-mail to instant messaging and presentations.
Sure, Google stands to gain from its innovation, but so does the entirecomputer-using universe. Tightly integrated search leverages the power of the Internet, the capabilities of always-on high-speed connections, and the knowledge base that has been created and is being stored on the world's servers — and it does so better than anything except instant messaging and e-mail.
Running in Place
We already knew search was special. But now it's been propelled to the top of the heap, a killer application that does what the Web is best at — using widely scattered information in a focused manner. Eventually, this kind of search functionality would have evolved even without Google. From the days of Windows 95, Microsoft has given users the ability to turn their desktops into browsers, but Google's genius is to streamline the search "plug-in" so users don't have to muck around with Microsoft's active desktop settings.
But why wait for evolution to take place when you can leapfrog a few generations? Google has issued a modest reminder that technology is all about moving forward faster than the normal pace of change. Everyone else may be running to catch up now, but at least they're running.
---
Note:
The opinions expressed by our columnists are their own and do not necessarily reflect the views of the E-Commerce Times or its management.
---