HD Widgets, an app from Cloud TV, is available for US$1.99 at Google Play.

If you've ever used HTC's Sense graphical user interface, you've been spoiled. I hadit factory-loaded on my first Android phone back in 2010, the Sprint HTC EVO 4G.
For those unfamiliar with the UI, the original Sense interface was woven around a setof panels centered on a home screen featuring an elegant flip-like clock and etherealweather animations.
The light, airy home screen was a delight to use, despite the weather data often beingwrong due to a glitch. It was a pleasure, however, to watch the clouds waft daintily acrossthe screen intertwined with the clock face — even if it was sunny outside.
HTC is on its fourth incarnation of Sense, and in my opinion, no one has come close. In fact, they've got nowhere near.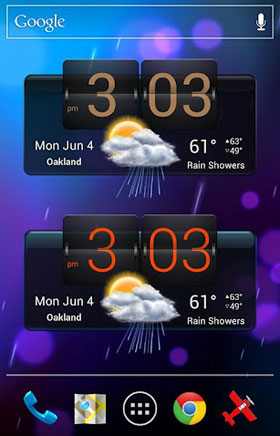 Muddy teal menus, and crude buttons from Motorola fail to delight; the Honeycomb UIon my Toshiba Thrive tablet with its neon-effect borders looks like it should be part ofthe UI for a child's toy.
However, a browse around the Play Store will uncover downloadable themes, sets ofwidgets and UIs, one of which is HD Widgets (3.0) Beta from Cloud TV.
Play Editor's Choice
HD Widgets is notable in that it's received Google Play Editor's Choice. Some of the other UIs I'veplayed with have been low-resolution pixelated or generally spindly and poorly designed, soI decided to take a look.
HD Widgets is a $1.99 set of clock, weather and switch widgets that can be customized.
LED-style, flip and Honeycomb clocks are included, along with current and forecastweather widgets of varying sizes. A stack of switches is provided, and all of theseelements can be mixed and matched.
Getting Started
I was leery at first because the screen shots on the app's Play page were somewhat garish,but, as with much design, it's a case of less is more, and Cloud TV has obviously triedto display as many of its widgets — along with their variations — as possible for marketingpurposes.
But there's nothing to stop you cutting out the superfluous bling and ending up witha simple, elegant screen. Just use less stuff, which is what the designer was probablyintending, and is one of the reasons the roles "salesperson" and "designer" are usuallytwo different jobs within an organization.
Installing the App
Loading the app went fine on both phone and tablet. A device re-start is required to getthe widget menu to populate, and accessing the widget list is intuitively similar to howyou'd access existing device manufacturer, or Android-native widgets.
A 16-MB high resolution weather icon pack needs to be downloaded for tablets if you're using largeweather headers.
Switch Widgets
The vivid widgets are of high enough resolution that they crossover well from phone totablet, although font size on the switch widgets is more suited to phone-sized screens –the text was too small on the tablet, and couldn't be re-sized.
The glass-effect buttons, however, looked gorgeous, and icon and text colors could bechanged, so I started building transparent, color-coded buttons for the tablet and didn'tworry about the minuscule text.
Unfortunately, switches aren't available for every device function. For example, acalendar switch template is included but not calculator. This leads to a mishmash ofswitch styles on the screen, and defeats the object of an elegant user interface. Strips ofswitches can be usefully edited.
Clock and Weather
The clock is beautiful. On the tablet, I chose a 2×1 glass-like, transparent flip clockthat I stretched to fit the screen better.
The effect is simple and polished. Although thenumerals don't actually flip, it still looks great, and better than any non-HTC clock thatI've seen.
The Weatherbug-powered weather headers are of equal quality visually, although not animated, and consequently rather dull — I saw no wafting cloud.
In Conclusion
Overall I like the app a lot. I've been disappointed with the boorish switch and weakclock designs on a number of devices that I've been using recently, and I intend to useHD Widget to clean up my device UIs when I get spare moments.
At $1.99, the app is good value because it works cross-device, so you only need to buy itonce for both phone and tablet.Google Play: HD Widget Web Pagehttps://play.google.com/store/apps/details?id=cloudtv.hdwidgets&feature=search_result#?t=W251bGwsMSwxLDEsImNsb3VkdHYuaGR3aWRnZXRzIl0.