Well another year has come and gone here in the Linux blogosphere, and what a different world it is as we enter 2014.
Certainly most notably, our friends at the NSA have made it clear that any notions of privacy have pretty much gone out the window. Go Tor!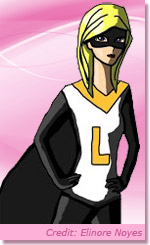 Speaking of Windows, XP's final days are now finally being counted down. Cheers to that!
Closer to home, meanwhile, Linux is now a rising star in the gaming world, even as it continues to shine on Chromebooks, tiny PCs, Android devices and beyond.
Today's world may not respect individual freedom in the way many of us would like, in other words, but there's no denying that — perhaps at least in part as a consequence — Linux and FOSS continue their ascent.
Martini-Fueled Musings
Even as the LXer crowd were vowing to ramp up their "OpenCloud skillz," among other commendable goals, Linux Girl's barmates down at the blogosphere's seedy Punchy Penguin Saloon were sharing New Year's hopes and dreams of their own.
More than a few Manjaro Martinis later, Linux Girl discovered she had been taking notes.
'Some Serious Patent Reform'
"Every year I hope for Linux on the desktop, and 2014 is no different," began Linux Rants blogger Mike Stone.
This year, however, "I hope that with Microsoft's collusion with government agencies now public knowledge, businesses will start to look at alternative options," Stone added. "With Linux and OS X being the best choices, Linux is the only one that will also run on the majority of their existing hardware.
"I also hope to see continued success for Chrome OS and Android, with possible alternative FOSS OSes showing up in the mobile market," he said.
"I would love to see some serious patent reform in 2014 to stop all these obstructionist lawsuits," Stone concluded.
On the commercial front, fewer lawsuits against free software and Linux-based products is another of Ebersol's wishes: "The cat is out of the bag, and the ridiculous lawsuits only try to slow Linux down," he explained.
Finally, "on the the community side of GNU/Linux, I would like to see less fragmentation and fewer standards wars," Ebersol suggested. "That said, I think we'll have some new standards."
Looking ahead, Ebersol hopes "that GNU/Linux be kept 'Free for all,' non-exclusionary — as it always has been — and fair to everyone involved," he concluded. "It will be a very good year."
'Keep in Mind Our Rights'
Google+ blogger Gonzalo Velasco C. had similar dreams.
"My hopes for 2014 are that GNU/Linux keeps growing everywhere," he told Linux Girl. "It is no longer a wish to one day see 'the year of Linux' — now we can see it."
Meanwhile, "I wish kernel and application developers keep in mind our security and privacy rights, to continue to deliver the best system out there," he said.
Finally, "I salute three different people as a means to salute every single FLOSS friend and wish them all the best: Happy 2014, Richard M. Stallman, Linus Torvalds and Katherine Noyes :-)"
So much for Linux Girl's vow to remain cool as a cucumber in this new calendar year.
'A Lot of Work Needs to Be Done'
Google+ blogger Rodolfo Saenz's hopes were similar.
"I wish that Linux continues to grow both in the server world as in the final user's," Saenz told Linux Girl. "I think Linux/FOSS is on the right track and that sooner or later it will be the choice of the better part of the software world."
In the meantime, however, "a lot of work needs to be done, mainly to be friendlier for the garden-variety user," Saenz said.
'More Women Actively Involved'
Along similar lines, "I will use an excellent article in Linux Journal as a jumping-off point and say that I would love to see Linux/FOSS make great strides in usability as my first wish," said Google+ blogger Kevin O'Brien. "Second, following up on Doc Searls, I would love to see more women actively involved."
"I suspect that getting either of these will require a change in the 'boys club' developer culture, and just maybe we can start to grow up a little bit," O'Brien added.
"My wish would be to see the mobile market REALLY open up, to see MozOS and Tizen and the other small fry get more devices into more stores, to see a real alternative to Google Play come about, and to see Android mods become more mainstream," Slashdot blogger hairyfeet told Linux Girl.
"After all, it doesn't matter if Android runs a Linux kernel if it ends up more locked down than a TiVo, and with all the lock-in moves we've seen from Google this past year, it feels more and more we are just trading one nasty corp for another," hairyfeet said.
"What mobile really needs is competition similar to what we saw in the 80s with the PC cloners, with the platform becoming standardized so that lock-in becomes a thing of the past," he concluded.
'Why Not Computers?'
Last but not least, blogger Robert Pogson summed it up particularly concisely.
"I hope that in 2014 anyone will be able to buy any computer with any operating system anywhere," Pogson said. "That's not too much to ask, is it? We have choice on retail shelves for toasters, sweaters and everything else. Why not computers?"
Specifically, "I think 2014 would be absolutely wonderful if consumers or businesses could get ARM, Intel, AMD, etc. in combination with GNU/Linux, FreeBSD or Android/Linux and have a wide variety of peripherals and applications available," he explained.
"We are very close to that dream today," Pogson added. "In USA or Canada, one can buy Chromebooks just about anywhere with either ARM or Intel CPUs. In many parts of the world, Android/Linux is available on ARM or Intel CPUs in a huge variety of forms from tiny controllers to smartphones to tablets and even a few desktops."
In other words, "this nonsense where you can have anything as long as it runs that other OS on Intel is just about dead," he suggested. "OEMs and retailers can't even sell enough units to bother these days, but the number of small, cheap computers in endless variety keep increasing in unit sales. 2013 was pretty decent but 2014 promises to be even better."
'One of the Largest Economic Crimes Ever'
A perfect market for Pogson would be "one in which consumers could select OS just as easily as they now select hard drive capacity or memory," he told Linux Girl. "Retailers should show the price of systems with any workable combination of components. That would allow competition to benefit the skillful producer, the able salesman and the wise consumer — everyone."
What has existed in the market for personal computing until recently has been "one of the largest economic crimes ever," Pogson asserted. "OEMs and large customers can already do this by demanding what they want from upstream suppliers. It's time consumers and businesses could do the same."
What Microsoft wants "should not matter from 2014 onward," he concluded. "They now ship fewer units than Android/Linux, iOS and GNU/Linux combined. Retailers should start to work for themselves instead of M$ and sell what people want.
"Obviously people don't want M$'s stuff all over the place or they would have bought smartphones and tablets with that other OS," Pogson added. "They did not. 2014 would be perfect if OEMs and retailers finally listened to consumers and businesses instead of M$."