Hotels.com, an app from Hotels.com, is available for free at Google Play.Here's a likely familiar summer scenario for many Americans: You've been drivingall day, and it's getting late. You're tired. You're ready for a hotel bed in an unknown towncoming up ahead.
My modus operandi has always been to watch for billboards advertising upcoming motelswith rates. Or, I might exit the freeway at an obvious motel cluster and drive around lookingfor the best rate at the cleanest-looking joint.
Sometimes, I'd stop the car and walk up requesting rates at a number of motels — ultimately choosing the cheapest.
Dog-tired, it was a war of attrition though, with the hotel industry usually winning before Icompleted my price survey.
All of this adds to the length of the travel day, is prone to price gouging by brigandishinnkeepers, and doesn't take advantage of today's available technology. I was keen tosee if matters could be improved on a recent trip.
Hotel Booking Apps Range
Unscientifically, I looked at a slew of chain-agnostic, potentially worthy, hotel bookingtest subjects: the Hotels Tonight, PriceLine Hotel Negotiator, Expedia Hotels andHotels.com Android apps.
Hotels Tonight only covered some cities; PriceLine's bidding process looked too slow forthis road-trip purpose; and Expedia boasted only 130,000 rooms.
I was eager for this review not to morph into an app comparison — there are other worthyapps out there. I wanted to see the extent an Android smartphone app could alleviate the road-trip issues raised earlier. Is it better than driving around looking for deals? How quick isit? How is the mapping, or directions functionality?
I chose desert crossroads Barstow, California, as my test city, and I chose Hotels.comwith its advertised 140,000 plus rooms as the app.
How Easy
Installing at the edge of town after a night camping in the wirelessly barren desert wasseamless, and the "Settings" area within the app was intuitively easy to find with its gearcog icon.
"Settings" was my first app stop to investigate for compatibility with locationservices. "Use my current location" was there and checked, so I moved on, and continuedrolling into town.
Next stop was the seductively labeled "Tonight's Local Deals" that I had a chance to lookat while stopped on East Main Street, the principal motel-laden drag.
Two establishments were listed as available with deals. The blandly named CaliforniaInn, at US$50, and the Hilton-owned Hampton Inn and Suites at US$112.
Time for Tests
A drive by the California Inn, conveniently — as I discovered from the app — just alongthe street, displayed an exterior billboard with a $49.95 rate, a close enough win for theapp.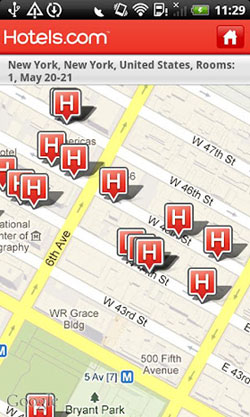 Driving over to the Hampton some way out of town to check it out was problematic,because the Hotel.com app's in-built map didn't provide directions — just points on a map.
I had to fire up Google Maps and enter the "Hampton Inn" search term. I was then readclear directions by the voice synthesizer. A debacle on the part of Hotels.com was thatit didn't integrate directions from my actual location.
Finally, over at the Hampton, the front desk clerk offered me a $149 rate. Brandishing myphone, I asked her to match Hotel.com's $112. With a smile, the charming agent offered me a room for $119, and sweetly told me to book through Hotels.com if I wanted the $112 rate. I got the impression she'd encountered the issue before.
It was another win for the Hotels.com app, but a failure for common sense, and stormingback to my dust-encrusted truck I went back into town on a new Hotels.com lead: theTravelodge on the main drag at $43.
Again, my tactic was to ask the rate for the night — ostensibly the walk-up rate — and thenask the hotelier to match Hotels.com.
The initial desk quote there was $50, and after a phone flourish and mention ofHotels.com's $43, the clerk indicated that he would indeed match it.
The kind fellow also asked me if my car had broken down — a likely common occurrencein this overheated mid-desert stop. If I had been reviewing hotels, not apps, I'd have given himbonus points for care and consideration.
In Conclusion
The mapping functionality was disappointing, with no live directions. Strangely, thetabulated list of hotels didn't appear to use a current location, but used a broader brushstroke. You had to use the map to see which hotels were actually closest.
From a bottom line perspective, Hotels.com couldn't be beat. As one would expect, ineach of the three cases, the app beat the rack rate. However, it also supplied better rates ifyou booked through it or, as I had done, used it as a negotiating tool.