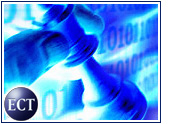 While Big Blue's name was not always synonymous with e-commerce, the technology giant has become a major player in the sector in recent years.
IBM made that transition in part through savvy partnerships with software companies specializing in e-business, and in part by offering its WebSphere software, which amounts to a flexible infrastructure kit that lets businesses configure their own e-commerce systems.
"They made a number of wise decisions in terms of forming strategic partnerships," Yankee Group program director Jon Derome told the E-Commerce Times, noting that those agreements have been crucial to the company's rise through the ranks in a crowded field.
Smart Teaming
Experts pointed out that IBM, through its software and hardware operations, has teamed up over the past three years with specialty software firms that already have a solid e-business presence, including Siebel Systems, SAP, Invensys, Ariba and i2.
Derome noted that most of Big Blue's e-business partners were already established leaders in their respective categories, such as customer relationship management, self-service and online billing and payment.
He added that IBM remained dedicated to openness in operating systems standards and wisely took advantage of its large installed base — consisting of hundreds of companies already familiar with its non-commerce hardware and software — to market its e-business products and services.
In times of economic uncertainty, companies are less likely to go with unproven or unknown vendors, and that has worked to IBM's advantage in recent years, Derome said.
Gaining with WebSphere
A key element of the company's e-commerce ascent has been WebSphere, an e-commerce application server that functions as the basic infrastructure for a company's e-business services.
Giga Information Group senior analyst Andrew Bartels told the E-Commerce Times that in 2001, IBM had between US$95 million and $100 million in e-commerce-related revenue, accounting for about 13 percent of the total market. That market share, driven in large part by IBM's commerce server offerings, represents a significant rise in the last three years, according to Bartels.
But analysts pointed out that the e-commerce market is too diverse to be dominated by one company. IBM's rivals include a number of large enterprises that have interests outside e-commerce — such as Microsoft, Oracle and Sun — in addition to smaller, specialty service providers.
According to Giga figures, IBM's 2001 e-commerce intake trailed that of longtime foe Microsoft, which posted $135 million in revenue from e-commerce products and client services in 2001. But IBM topped Oracle, which reaped about $75 million in that market.
Bartels credited increased focus on the sector by former IBM chairman Lou Gerstner, who emphasized that e-commerce was not only about buying and selling things, but also about serving customers' complex transaction-processing needs.
Shift in Focus
According to Bartels, IBM began exploring commerce-related applications in the 1970s. Through the mid-1990s, the company offered an array of online catalog sales and software tools with limited success. A key turning point came in the late 1990s, when Big Blue decided to forgo its focus on application software and emphasize infrastructure services instead.
One result of that shift was the creation of the WebSphere platform, which has captured a sizable following. Bartels said WebSphere was packaged as a toolkit of sorts, to be installed on application servers to give companies basic programs needed to configure their own commerce systems.
"WebSphere has been very successful for the application server," Bartels said.
IBM continues to tweak its e-commerce programs. The company recently announced that Version 5 of WebSphere will include support for the latest version of Java 2 Enterprise Edition software, which is used on many business servers, and also will support enhanced Web services standards.