It's not all photo apps and more apps when it comes to taking photographs with an Android smartphone.
I've written about apps for photography with an Android smartphone, but there are some basics that you need to know, unique to smartphones, that have nothing to do with imaging apps.
If you're finding that you're migrating from a dedicated digital camera and taking more photographs with your phone but are disappointed with the results, here are some pointers on how to take better photographs with a smartphone, along with some ways to keep the images, and to share them.
Step 1: Steady as You Go
Holding the phone very steadily with both hands is harder than it sounds — and significantly harder than with a classic camera body with its protrusions and for-photographer-designed ergonomics.
Smartphones are designed not to be held firmly. They are designed to slip out of your hands and smash on concrete floors so you have to buy another one.
Get and keep a good grip. Use a support for your arms like a tree, wall or table. Stability is the key to non-blurry images.
Step 2: Move It or Lose It
Move your physical position to zoom in and out. Walk toward the subject to zoom in, and away from the subject to zoom out.
This may sound obvious, but it's something you don't have to do with a dedicated camera, because the optical, glass lens performs the zoom — twiddling the lens body, or pressing the In and Out buttons physically adjusts the optical assembly and consequently the focal length. It does the job and does it well.
Smartphone cameras may have zoom functions, but they don't have the advantage of superior mechanical lens elements, and thus rely on lesser-quality, processor-based zooming. It's not the same. If your zooms look grainy, get physically closer for better results.
Tip: Samsung produces the Android platform-based Galaxy Camera, which includes a 21x long superior optical zoom along with 3G connectivity (about US$329 network-unlocked at Amazon.)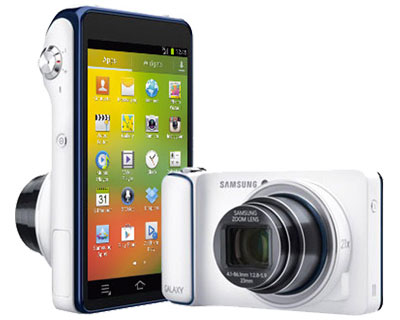 Samsung Galaxy Camera
Step 3: Back 'Em Up
If you think losing a $600 smartphone could be annoying, add-in the loss of a year or so's photographs, and an irritating loss becomes a tragedy.
In the old days, photographers would keep negatives and prints at different locations. More recently, with digital cameras, post has been performed on PCs, thus creating a backup. Trouble is looming with smartphones, because capturing, post and sharing occur on one device.
If you're migrating to a smartphone, it's worth using a program to back up your photographs.
Backing up Android smartphone images is easy, though. In fact it's so easy, that after you've configured the process, you'll forget you're even doing it. The best way is with a cloud storage app like Dropbox.
Dropbox, available for free in the Google Play store, has an automatic Android Camera upload feature.
Browse to the Google Play store on your device and perform a search for Dropbox. Follow the prompts to install the app and create an account. Then open the in-app Settings menu and choose Turn on Camera Upload.
Every photograph you take will be copied and uploaded to your Dropbox cloud in real time. You can then access the images from your PC if you like, by browsing to the Dropbox website on the PC and downloading Dropbox's software.
Tip: Choose "Upload using WiFi only" in Dropbox's app settings to save on data charges. The upload will only occur when you next use WiFi.
Step 4: Share Your Photographs
Forget about expensive, dried-out-ink-cartridge printers gathering dust back at home base. They've gone the way of the pharmacy photo processor.
The wireless network and WiFi connectivity included with Android devices make it easy to share images.
Open the Gallery or Library on your phone and select the image you want to share. It will open full screen or with a border. Touch the image and look for the Share button. It's a dot icon with two arrows, one pointing toward eleven o'clock and one towards one o'clock.
Choose an action like Send to Email, or Social Network.
Tip: If you are using cloud app Dropbox for backups, you can also use it for sharing entire camera folders.
Within the Dropbox app, select the folder that contains the images you want to share.
Then choose Share from the resulting pop-up, and share a Dropbox folder link to email or another service.
Want to Ask a Tech Question?
Is there a piece of tech you'd like to know how to operate properly? Is there a gadget that's got you confounded? Please send your tech questions to me, and I'll try to answer as many as possible in this column.
And use the Talkback feature below to add your comments!