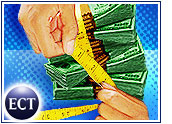 Partnerware's recent exit from the PRM (partner relationship management) space is the latest reminder for IT buyers that the software industry is not at its most stable point right now. Even one-time stalwarts, such as Siebel, are experiencing difficulty; certainly, cutbacks in staff have become endemic across the industry.
While it seems reasonably certain that Siebel, Oracle and SAP will remain long-term viable companies, despite the short-term woes in the economy, the same cannot be said for the smaller, newer firms that are usually privately held.
The answer may seem obvious to some: To avoid the disruption that inevitably follows the failure of a software vendor, stick with the big names. There is a certain validity to this strategy. However — often for competitive reasons — some companies want to avail themselves of the best-of-breed applications that many of these newer firms offer — their lamentable lack of a track record, notwithstanding.
"Point solutions will always have a certain appeal, even though there is certainly a lot of consolidation going on," Robb Eklund, vice president of marketing for PeopleSoft, told CRM Buyer Magazine. "We continue to see innovation in small startups."
Creative Due Diligence
These cases call for a stringent, not to mention creative, due-diligence process. The problem is, how does one determine the viability of a company that does not have to file — and now certify — public financial statements?For starters, ask to see the books anyway, Rob Novick, vice president of North Highland Consultancy, told CRM Buyer. "If a vendor really wants your business, it will open its books to you."
Such requests are routine, according to Chris Heidelberger, CEO of privately held PRM vendor ChannelWave.
While many of these companies are not yet profitable, that is not really the metric to focus on anyway, although it is always nice. Instead, ask about the run or burn rate.At a bare minimum, you want a company that has at least six months of cash on hand.Other factors to consider include the percentage of revenue that is plowed back into R&D, who are the major customers — and are they experiencing trouble — and how much revenue comes from license fees versus services.
Beyond Cash
But wary buyers should look at more subjective metrics, as well. Novick suggests examining the client list. A large company is unlikely to let a strategic vendor go out of business; in a worse-case scenario, it may simply acquire it.
There is always something a company can use to get a handle on a vendor, Gareth Herschel, research director for Gartner, told CRM Buyer. "Ask yourself, how motivated is the owner or CEO? How realistic is the vendor's development schedule? Is the sales process well organized?"
If a company does decide to go ahead, he suggests that it "watch for significant diversion of resources away from product development, and demand monthly updates of the product development road map, and let the vendor know you are attaching great importance to its claims."
Partners and Clients
Herschel also suggested that prospective buyers examine the quality of partnerships a vendor has with other companies. If a partnership with, say, an integrator is a significant one, it is likely to have at least one full-time employee dedicated to managing it. If, instead, there is one employee who manages a score of such partnerships, it is more likely that these relationships mainly exist in press release form, he said.
Herschel also advises would-be buyers to examine the client list, but to keep in mind some caveats. He said that companies like AT&T, for example, "will typically have multiple relationships with vendors in the same space. What you need to look for is the depth of use of a certain application. If a vendor started with one group and then expanded the use of its application throughout the enterprise, then that is very impressive.
"On the other hand, if the vendor has stagnated in one division, it might be that it doesn't have a good strategy of pushing further into that company."