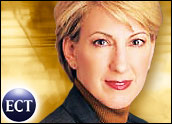 Hewlett-Packard Co. (NYSE: HWP) plunged in early trading Monday, losing 5 1/16 to 34 1/16 after the company missed analysts' fourth-quarter earnings expectations and dropped its plan to acquire the consulting division of securities firm PricewaterhouseCoopers.
The Palo Alto, California-based computer maker said revenue for the quarter ended October 31st rose 17 percent from a year earlier to $13.3 billion. Earnings before extraordinary items totaled 41 cents per share, compared with 36 cents a year earlier and estimates of 51 cents.
"We are pleased that revenue growth is accelerating, but very disappointed that we missed our EPS growth target this quarter due to the confluence of a number of issues that we now understand and are urgently addressing," said chairman, president and chief executive officer Carly Fiorina.
"Margin pressures, adverse currency effects, higher-than-expected expenses, and business mix" were among the problems that held results back during the quarter, Fiorina said.
"The good news is that our business is healthy, demand is strong, and we are making good progress against our strategic objectives as we continue the hard work of reinventing HP," she added. "We are determined to succeed and are not backing away from our growth targets."
HP said it dropped its plan to buy PricewaterhouseCoopers' consulting business after the companies failed to reach a "mutually acceptable agreement."
"This is a high-quality operation, and we believe the strategic logic underlying this acquisition is compelling," Fiorina said. "However, given the current market environment, we are no longer confident that we can satisfy our value creation and employee retention objectives — and I am unwilling to subject the HP organization to the continuing distraction of pursuing this acquisition any further."
Looking to the next fiscal year, the company expects revenue growth of 15 to 17 percent, compared with 15 percent in fiscal 2000.