A project to build a super-high-speed transportation system in California is gaining traction. JumpStartFund on Thursday revealed its users had voted to select the official name, "Hyperloop Transportation Technologies Inc.," for the company undertaking the challenge.
Marco Villa, Ph.D., former director of mission operations for SpaceX, and Patricia Galloway, Ph.D., former president of the American Society of Civil Engineers, will lead the project, which aims to demonstrate a Hyperloop prototype within 18 months.
SpaceX and Tesla founder Elon Musk this summer revealed his concept for the Hyperloop high-speed mass transit system as an alternative to a planned high-speed rail line between Los Angeles and San Francisco.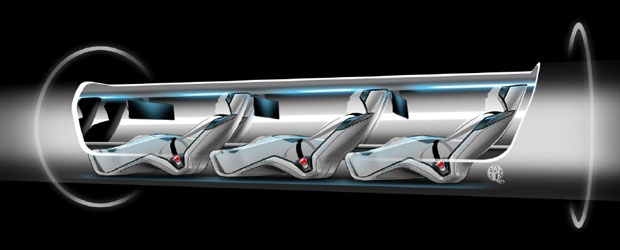 Hyperloop Passenger Capsule
While the state's project would get commuters from one city to the other in around two hours and 40 minutes, the Hyperloop would move as many as 840 passengers an hour with a travel time of just 30 minutes. It works by transporting people inside capsules riding along an air cushion inside a steel tube; it uses solar arrays on the roof of the tube to generate power.
Musk did not feel he had the time to develop his idea further, so he made his plans open source, inviting others to work on their execution.
Line Forming
JumpStartFund, a crowd-powered incubator, announced its intention to back the Hyperloop project just a month later.
JumpStartFund says it's been "inundated by applications" from people looking to join the effort. As of earlier this week, it had 165 applications.
"Those are all people interested in joining the team, either part-time or full-time, in exchange for equity," Dirk Ahlborn, CEO and cofounder of JumpStartFund, told the E-Commerce Times.
Most are engineers, though marketers and businesspeople are applying too.
"It's actually surprising how great a profile and background [the engineers have]. They are all high-level engineers and scientists," said Ahlborn.
JumpStartFund is in the process of speaking with those applicants and expects to hear from more interested candidates following Thursday's announcement.
Hyperloop Transportation Technologies has revealed its list of initial partners: Ansys, which carried out a Hyperloop feasibility study; GloCal Network Corporation, which will support the manufacturing and supply and value chain aspects of the project; and UCLA Architecture and Urban Design's graduate program Suprastudio, which will offer urban planning and traveler experience design suggestions.
Additionally, Hyperloop Transportation Technologies unveiled a timeline for developing the prototype. The company plans to start fundraising next week, with a view to releasing a white paper for the project by the end of March and holding demo events for the prototype by the first quarter of 2015.
A Lot of Ifs
"It shouldn't take that much time if the technology as presented is viable," Rob Enderle, principal analyst at the Enderle Group, told the E-Commerce Times, but "it is likely they will run into unforeseen problems and I'd expect this date to move out as a result."
Musk suggested the Hyperloop project would cost less than US$7.5 billion — far less than the state's estimated price tag of $68 billion for the rail line between Los Angeles and San Francisco.
It is not yet clear how much this Hyperloop project, a for-profit venture, actually will cost, though. JumpStartFund has been in contact with venture capital firms regarding financing, and fundraising is still in the early stages.
"With the second iteration of the white paper, one of those tasks is to solve all of [the costing] issues," noted JumpStartFund's Ahlborn.
That said, there is certainly an array of barriers that could prevent the Hyperloop from coming to fruition.
"In terms of building the project, I see a mountain of hurdles. Nothing ever works as planned, especially on this scale," Jim McGregor, principal analyst at Tirias Research, told the E-Commerce Times."
"They are trying something that has never been done before, so the mathematical algorithms to calculate everything have to be developed and tested along the way, and there is still no promise they will work," he pointed out. "I think it is an great engineering project, but like all such projects, you never see all the hurdles until you begin."