iPad Emerges With Sharper Image and Zippier Chips
MacNewsWorld
Apple on Wednesday introduced the world to the latest version of its iPad, equipped with 4G LTE technology, a quad-core processor and a Retina display.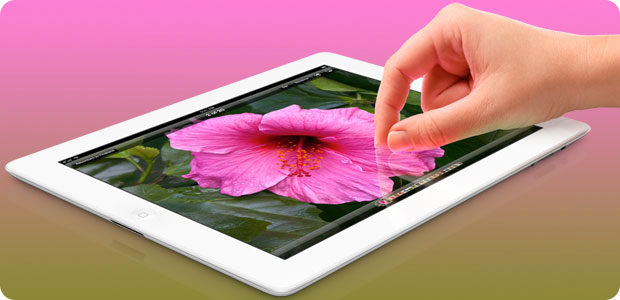 The new iPad
Apple also unveiled an updated Apple TV product. It will support 1080p viewing and sport a new interface. It will be tied into iCloud so that users can also access their music library or other content.
The main focus of today's event, though, was the new addition to the iPad family. The device, which is being referred to as simply "iPad" instead of iPad 3 or iPad HD, has a variety of new features. It can be pre-ordered starting today and will be available on March 16.
New Features
U.S. iPad customers who want cellular network access can buy a version of iPad for either the AT&T or Verizon networks. Canadian Rogers, Bell and Telus will also support the 4G LTE iPad. The company says it plans to add more carriers in the future.
With 4G enabled, the iPad will have 9 hours of battery life.
The new device also features a Retina display, packing 326 pixels per square inch. That gives it more than quadruple the number of pixels found in the iPad 2.
Apple announced that the iTunes store will now stream HD 1080p video, a step up from the 720p it currently streams.
Photos will also be greatly enhanced with the new display, and Apple announced the new iPad will have better ways to take and share pictures. The front of the device will have a VGA .3 MP camera that's most commonly used for FaceTime or video chats.
On the back of the iPad, though, there will be a 5 MP camera with backside illumination that can shoot video in 1080p.
Apple also equipped the new iPad with a quad-core graphics processor, a modified A5 chip it called the "A5X."
The new iPad will also feature voice dictation. It's not the same as the Siri personal assistant that Apple launched with its iPhone 4S, but users can tap a microphone icon to dictate to the iPad.
The pricing for the new iPad, available in black and white, will be the same as the iPad 2. A 16GB WiFi version will be $499, a 32GB version will be $599, and a 64GB version will be $699. For the WiFi+LTE models, a 16GB version will be $629, the 32GB version will $729 and the 64GB version will go for $829. The older version of the iPad will now be getting a price cut. Now, a 16GB iPad 2 will start at $399 for the WiFi version and $529 for the 3G version.
Apple didn't return our requests for further comment on the new iPad.
Rumors Put to Rest
Prior to the new iPad's launch, one of the most buzzed-about features was LTE. But that might not be a huge selling point compared to some of its other features, according to Colin Gibbs, analyst at GigaOM Pro.
"Most tablets don't sell with cellular plans because data is so expensive, and tablet users often take them from hotspot to hotspot anyway," he told MacNewsWorld.
However, it could tell curious Apple watchers more about what some of the next big company announcements will bring.
"To me, this signals that since the iPad is the same price and has almost the same battery power, and is just a little bigger, Apple has figured out the challenge in putting LTE in mobile devices. An LTE-enabled iPhone would be huge and very attractive to consumers when and if that launches," said Gibbs.
iPad Revolution?
During the presentation, CEO Tim Cook once again referred to the "post-PC era," in which he sees the versatility, flexibility and mobility of the tablet becoming more valuable to consumers than traditional laptops and desktop computers.
It's a topic that he and other industry executives have touched on before, that the dawn of the tablet. Apple focused on it especially during its presentation as it showed a variety of more complex ways the iPad compares to a PC.
Apple highlighted a drawing app called "Sketchbook Ink" geared toward artists, showcased improved versions of Garage Band and iMovie, and displayed video game demos. When announcing the price cut for the iPad 2, Apple's Phil Schiller promoted its use in the classroom.
The iPad is also working its way into enterprise settings. A recent Business Journals study showed that the iPad is the fastest growing piece of technology in the small business market.
"The features that have been released today have really helped cement the iPad as an enterprise-class tool," Hugh Owen, director of mobile marketing at MicroStrategy, told MacNewsWorld. "Businesspeople are looking for ways to get more data, or to get it faster, and with the improvements in 4G LTE with this iPad, they can do that and walk around empowered with that ability."
Apple TV can also play a role in enterprise.
"When people have an Apple TV box in every TV that's in the office, and people are equipped with an iPad, they can go from room to room, or as conversation moves around the table, can throw whatever is up on their iPad onto the TV and have a great presentation tool," said Owen.
The iPad's power to change the enterprise landscape doesn't necessarily mean that PCs are on their way out, however.
"The iPad is great for thousands of things, but when it comes to true productivity, it just doesn't work as well. At least for now, the iPad is going to continue to be for the most part a complementary device, because day in and day out, there are still people who need their PCs to truly get work done," said Gibbs.