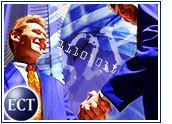 IBM (NYSE: IBM) said Thursday it is now offering over 30 new Web hosting packages aimed primarily at the small-to-medium business market.
The fully-managed programs provide pre-packaged, ready-to-operate services for both e-commerce security and infrastructure, the company said.
"We're making these (packages) more to be off-the-shelf services," IBM program director of application hosting services Paul Boulay told the E-Commerce Times. "You determine, based on your customer engagements, what the requirements are for the packaged options."
According to IBM, the company's Web-hosting customer contracts exceeded US$1 billion during the first six months of 2001.
Hackers For Hire
Boulay said that although IBM has been offering Web hosting services on a customized basis for some time, the new packages make it easier for companies to get up and running quickly.
"Based on those (prior) customer engagements, we determined what these package offerings needed to entail," Boulay said.
Security services in the packages include an "ethical hacking service," in which companies can hire IBM to attempt to break into the company Web site. Other IBM security services available include firewall management and monitoring, and virus detection.
In addition, the new IBM services can help companies concerned with data encryption to establish private virtual networks.
"Virtual private networks become a critical piece when outsourcing critical business applications," Boulay said.
Preparing For What's Next
Boulay said that in terms of e-commerce packages, customers are now looking for full application functions to be provided. IBM's new hosting packages incorporate the company's WebSphere Commerce Suite Pro, which enables businesses to set up a Web-based catalog system as well as Web domain and address, server, network and backup, and restoration services.
"What I've heard from customers is they are looking to make sure the infrastructure is open and flexible, so that when the next big thing arrives, they will be able to take advantage of it," Boulay said.
Boulay said IBM's future hosting services will focus on flexibility, scalability and security options.
"We want to continue forming the right partnerships both with ISPs (Internet service providers) and other value-added service providers," he said.
IBM, Lycos Ally
IBM also announced a new strategic alliance with Terra Lycos (Nasdaq: TRLY) on Thursday. The two-year agreement will make IBM the infrastructure provider (including servers, software and enterprise management) for Lycos' network of sites.
Terra Lycos is also planning to work with scientists at the IBM Research Lab in Almaden, California to develop new technologies and applications, the company said. The agreement also includes plans for collaborative marketing efforts.
The two companies also announced a separate marketing agreement in which IBM will be advertising on Lycos sites.