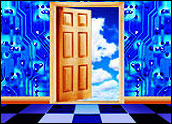 Personalization technology goes hand-in-hand with portal tools, as IBM sees it. Corporate users have a hard time trying to figure out which content, information, applications and processes are relevant to them and their work, and open standards are only compounding the problem by providing even more system interoperability, Tim Thatcher, the company's program director of portal marketing, said.
This is why portal interfaces, with screens personalized to either a particular corporate role or a specific user, are becoming popular. "We don't see a stand-alone personalization market," Thatcher told CRM Buyer Magazine. A portal, as the single point of access for content and processes, is the place to offer highly personalized, customized views and offers to both internal and external users, he said.
Personalized portals can combat the heavy doses of information overload that enterprises heap on their employees. "We have delivered so many applications to people," Thatcher said, that "we've almost done a disservice to them."
Data Versus Brains
"Most of the information we need to access is not digital, but stored in human brain tissue," Thatcher added. Therefore, personalization that only guides users to electronic documents falls short of the mark. "People need to identify those individuals with the information they need," he stressed, pointing out that any effective portal and personalization toolset must have strong search tools.
IBM's offering provides such search capabilities and combines them with a comprehensive set of filters that provide customized results based on needs defined at the user, work group, department or company level. Employees also can route content they create through the same filters, which can be personalized to accommodate the compliance and approval processes specific to each situation.
Internal and External Users
Thatcher said he sees the division between system users internal to enterprises and external to them diminishing. He gave the example of Daimler-Chrysler, which uses IBM personalization and portal tools to provide suppliers with access to its supply chain applications.
"One small partner that supplies just one widget to Daimler-Chrysler could drown in all the information they put out," he said. Once a customer sees how the combination of portal and personalization technologies can be effective with one user audience — suppliers, for example — it often will extend the tools to another audience — retail customers, for instance.
This transfer of personalization does not occur in enterprises that use personalization separately from portal tools, Thatcher noted.
Carrying the Standards Standard
"We have been very active in supporting open standards in the portal space," said Thatcher, "by participating in the Java community process and the Oasis industry organization working with Web services."
IBM also has representatives chairing and co-chairing a range of architecture and standards committees. Thatcher said he expects those groups to release the first version of standard specifications for portal technology later this year, with standards for personalized data following close behind.
"When a site captures user preferences," he said, "there eventually will be APIs (application program interfaces) for that so that information created in one environment can be read in another environment."