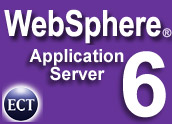 IBM unveiled its much-anticipated WebSphere Application Server Version 6 thisweek, touting self-healing and management features thatwill save businesses from downtime and developers from drudgery.
Big Blue said the new WebSphere infrastructure software — a Java-basedmiddleware package for tying applications together and managing them — andits automatic failover features would spare businesses from the enormous costs of downtime. IBM cited improved protection againstapplication downtime, automated "wizards" to replace irksome applicationdevelopment and deployment tasks, improved scalability for more users, andWeb services support.
"We really see [reliability] as a key factor, and we expect that to be ofgreat interest to the business side," IBM spokesperson Ron Favali toldTechNewsWorld. "We also think the self-healing is something that will helpdevelopers by eliminating some of the more tedious processes."
Answering a Need
Yankee Group senior analyst Laura DiDio believes the WebSphere applicationserver update is the natural progression of a technology development effortstarted by IBM in the late 1980s. The new softwareaddresses what has become a more critical issue for businesses, she told TechNewsWorld.
"There is a need," DiDio said. "Nobody can afford downtime."
The analyst said that this is an extension of IBM's move toward building self-healing orself-maintenance functions into hardware.
"We had this notion of self-healing in hardware," she said. "Now we'reseeing it realized and utilized in the software."
Like Brakes for a Car
DiDio said it would not be difficult for IBM to convince corporate users ofthe value of its WebSphere application server, which the company says should be available inearly December.
"IBM's pitch is, 'Yeah, you need this,'" DiDio said. "This type offunctionality is going to become as much of a requirement as performance andthroughput," she said of the new safeguards against outage. "It's likebrakes on a car. It's absolutely necessary because so much can go wrong."
DiDio said that rather than a single point of failure, corporations now face amuch more complex infrastructure with more sophisticated operating systemsand many applications.
At the same time, she said, companies are still struggling to find enoughskilled IT staff and support.
"That means you have to maximize the functionality of the technologyyou're using," DiDio said.
Testing and Migrating
IBM's Favali said the company had been conducting "a fairly extensive betaprogram" for the new WebSphere application server in order to get additionalfeedback.
DiDio said the traditional IBM testing meant that "leading-edge users"had helped determine what did or did not go into the new WebSphere software.
Referring to an "Express" version of the application server for smallerbusinesses, DiDio said IBM was aiming at companies that had weathered thedownturn and are now looking to the future.
"Customers are cautiously opening their wallets and exploring once more,"DiDio said, because they have to migrate to newer technology in order to compete.
The analyst also viewed the Express version of the new WebSphere serveras a recognition that the small and midsized business (SMB) market isreal.
"The SMB market has become much more pivotal and crucial to everyone,"DiDio said. "The [larger] enterprises are less fluid and agile to upgrading.The SMBs want the same leading-edge technologies and features and functionsas their enterprise counterparts do. They're demanding it."
Referring to other "lite" and small business versions of software fromIBM competitor Microsoft, DiDio said Big Blue was also looking beyondthe North American and European markets to Asia Pacific with its WebSpherestrategy, adding that the company is "revered" in Japan.