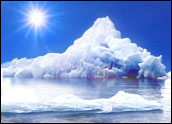 Iceland recently drafted a new constitution, a noteworthy event (a) because new constitutions aren't all that common and (b) because citizens were invited to participate via social networking sites. While not Iceland's most pure example of crowdsourcing, the constitutional update made extensive use of public input.
In fact, Iceland has responded to the current financial crisis — which hit the small nation hard — by inviting the public to take part in a number of initiatives to improve government.
In this TechNewsWorld podcast, Paul Fontaine, an editor for the Reykjavik Grapevine, joins us from Iceland to talk about how the constitutional process unfolded. He also discusses what was gained — and potentially lost — when Iceland decided to incorporate the Web into its constitution.
---

Download the podcast (17:38 minutes) or use the player:
---
Here are some excerpts:
TechNewsWorld: I want to get to this crowdsourcing issue and your recent column that you wrote. But first, let me ask you about the constitution in general, and kind of how it came to be. I guess before they could let citizens participate online in the drafting of the constitution, they had to decide that they needed a new constitution. So tell how that decision came about, and kind of what the background is on this new constitution.
Paul Fontaine: Well, after the crash of 2008, there was a lot of soul-searching that was done in the general public, and a lot of people believed that the system itself was in part to blame. We've had the same constitution since independence, and it was more or less copy-pasted from Denmark's.
So this began first in 2009 with what's known as the National Assembly. This was a very generalized type of meeting where average citizens got together and they discussed a number of different ideas about things that they would like to see happen in their society, not just pertaining to the constitution, but changes they would like to see in their society.
As that progressed, it became more and more apparent that the national will was there for a new constitution. So there was set up, first of all, an election of a 25-member constitutional council. Now, the stipulation to run for this council was that (a) you could have never served in political office before, and (b) you could have never even run for political office before. So then intention behind this was that you'd get the average Icelander to sit on this council.
Once this council was assembled, they were set to the task of writing up a constitutional draft, which they did. They put a lot of work into this, a lot of man-hours went into writing up a draft of this constitution.
And it's at this point where the meme or the buzzword of crowdsourcing arose. They set up a Web page where they invited people on the Internet to come in and give their input and their suggestions — "What would you like to see in the constitution?"
The Whisper Game