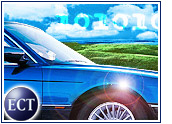 Covisint, the business-to-business (B2B) automotive e-marketplace backed by the major car companies, is taking longer than expected to ramp up — and experts agree that the delays could mean that Covisint will not be the driving force it had hoped to be.
Covisint is moving "slower than they should to have the impact they want to," Forrester Research analyst Dan Garretson told the E-Commerce Times, adding that Covisint will "probably not go completely away, but its role will diminish."
When Covisint was first announced in February 2000, its founding partners — General Motors (NYSE: GM), Ford (NYSE: F) and DaimlerChrysler (NYSE: DCX) — expected it to be live within 30 days and predicted that it would eventually handle US$750 billion in annual purchasing.
However, Covisint's launch was delayed due to technological difficulties, regulatory reviews and administrative squabbles. In fact, Forrester analyst Lucine King told the E-Commerce Times that building a fully functional online exchange that totally integrates the supply chain could take Covisint five to eight years beyond the time Covisint has been in development.
In the meantime, Covisint is concentrating on ways of Internet-based buying and selling, such as online auctions, that don't require total supply chain integration. Even this is no simple task.
Facing Reality
In addition to bureaucratic red tape and technology issues, industry-sponsored marketplaces (ISMs) have to overcome years of corporate culture developed and understood by many buyers and sellers.
King said that convincing buyers and sellers to use e-marketplaces was cited as the top challenge by the 25 ISMs Forrester surveyed for an upcoming report.
"The biggest difference (between ISMs) is how much each one has faced the reality as to what the problems mean," King said. "Some have adjusted their expectations and others haven't."
King said Covisint was one of the ISMs that had not adjusted its expectations downward.
Home-Grown Competition
Covisint is also facing competition from its primary backers. Ford, GM and DaimlerChrysler have all established their own online procurement systems that Garretson said could detract from Covisint.
European automaker PSA Peugeot-Citroen, which joined Covisint in May, has also said it will continue to push ahead with its own online procurement system, PX2001.com. Peugeot said that PX2001.com would be "the single point of entry for its supplier relations," not Covisint.
"[Automakers and suppliers] may in the end use Covisint or may not," Garretson said. "The longer it takes Covisint to ramp up, the more solid the companies own initiatives are."
Signs of Progress
Although Covisint might not ever meet the original expectations of its founders, there are signs of progress.
In April, the exchange named Kevin W. English, a former Wall Street executive with no automotive experience, as its first chief executive officer, president and chairman of the board. Additionally, the company announced in May that Covisint Europe was officially open for business and would be headquartered in Amsterdam.
Another "real shot in the arm" for the exchange, according to AMR Research sell-side e-commerce senior analyst Louis Columbus, was an online auction held by DaimlerChyrsler through Covisint in May. Five suppliers participated in the four-day auction and over 1,200 parts changed hands. The total value of orders placed during the auction was $3 billion, the company said.
Columbus told the E-Commerce Times that the auction was a "glimmer" of what is in store for Covisint and that there will be more events of this magnitude in Covisint's future.
Hard Knocks
Besides Covisint, numerous other B2B e-marketplaces launched with high hopes last year are also experiencing delays. King said that Forrester's review of 25 ISMs showed that establishing an industry-specific e-marketplace is "harder and slower than expected."
Gartner senior research analyst Gale Daikoku told the E-Commerce Times that building an ISM is a "very slow process that doesn't happen overnight," because companies building online exchanges are "trying to take really complex businesses processes and move them online."
However, AMR Research said that chemical industries marketplace CheMatch.com, which did over $1 billion in trade last year, was "one of the most successful e-commerce ventures in any industry." Utilities exchange Altra Energy Technologies also won praise from AMR for being "profitable, self-sustaining, and growing at a rapid rate with more than $1 billion of transactions a month."