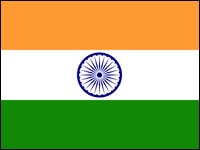 India is the top spam-producing nation in the world, according to a report from Sophos.
India's rapid rise up the chart of spam producers has been helped by the rapid growth of the Web in the country, said Graham Cluley, senior technology consultant at Sophos.
The inexperience of the many first-time net users in India had led many to fall victim to hi-tech criminals, he said.
"The latest stats show that, as more first-time Internet users get online in growing economies, they are not taking measures to block the malware infections that turn their PCs into spam-spewing zombies," he added …
About 9.3 percent of all junk email is relayed through India, according to the report. The U.S., which was the previous No. 1, is second on the list at 8.3 percent. South Korea, at 5.7 percent, rounds out the top three, followed by Indonesia and Russia.
China and Piracy
China, which has long been a hotbed for counterfeit goods and pirated media, had declared that it will take a tougher stand on online piracy.
[China's Supreme Court] on Sunday released the proposed interpretation of China's Internet infringement laws, taking a stricter stance on how websites can be held liable for promoting unlicensed copyrighted works such as movies, music and books.
Under the interpretation, companies can be held liable if the unlicensed works are recommended to users in certain ways. This could include the unlicensed work being featured on a company site that ranks content based on popularity, or if an infringing product is promoted through a description and link.
Companies could also be help liable if they allow users to "upload unlicensed content," according to PC World. In such an instance, a court can rule on the safeguards the company took to thwart piracy.
The United States (among others) has for years bemoaned China's vast counterfeit markets. A 121-page report, written back in 2009, claimed that U.S. industries lost some US$3.5 billion in 2008 due to Chinese piracy. China vowed then — as it did in January 2011 — to crack down.
Facebook Gets Litigious
A pair of cases, one in Australia and one in Germany, could help establish precedent when it comes to unseemly Facebook behavior.
In Australia, a 20-year-old named Ravshan Usmanov was sentenced to six months in jail after posting pictures of his former lover on Facebook. It was the first "social networking-related conviction" ever handed down in Australia, according to the Sydney Morning Herald.
The six pictures, according to court documents, showed his ex-girlfriend "nude in certain positions and clearly showing her breasts and genitalia."
Shortly after posting the pictures on his Facebook page in October last year, Usmanov emailed his girlfriend with the message: "Some of your photos are now on Facebook."
She had ended their relationship and moved out of their shared home less than three months earlier.
The woman reportedly demanded the photos be taken down, and when they weren't she called the police.
Meanwhile, in Germany, Olympic high-jumper Ariane Friedrich posted pictures of an alleged stalker on her Facebook profile. The stalker reportedly sent lewd photos, which Friedrich posted on her Facebook page along with some of the offender's details.
German outlet The Local quoted Friedrich in a Sunday article:
"I've been offended in the past, sexually harassed and I've had a stalker before," wrote Friedrich on Saturday on her Facebook page, where she posted the name and email address of the man who sent her a photo of his genitals in an email.
"It's time to act, it's time to defend myself. And that's what I'm doing. No more and no less," wrote the 28-year-old German high-jump record holder from Frankfurt.
Friedrich is reportedly planning to file charges against the man.
For Want of an Unsend Button
Intending to dismiss one employee, Aviva, one of the UK's largest insurance companies, accidentally sent the fateful email to 1,300 employees.
According to The Telegraph, the email read:
"I am required to remind you of your contractual obligations to the company you are leaving. You have an obligation to retain any confidential information pertaining to Aviva Investors operations, systems and clients."
A retraction was promptly sent out, but not before the initial email made its way to employee inboxes around the world.