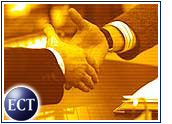 Intuit, Inc. (Nasdaq: INTU) rose 1 15/16to 47 11/16 Tuesday after the company agreed to sell its online insurance servicesdivision to InsWeb Corp. in exchangefor a 16.6 percent stake in InsWeb, worth about US$14 million.
As part of a related agreement, Sacramento, California-based InsWeb willbecome the exclusive aggregator of online insurance services for Intuit'sQuicken.com and QuickenInsurance Web sites, as well as some Quicken desktopproducts. In return, Intuit will get a share of the revenue from thefive-year distribution agreement.
"The sale of our consumer online insurance business is consistent with ourstrategy to focus our resources on businesses where we have a sustainablecompetitive advantage or are on a path to achieve one," said Intuitpresident and chief executive officer Steve Bennett.
Bennett will gain a seat on InsWeb's board as part of the agreements. Intuitalso agreed not to buy additional InsWeb shares for three years.
InsWeb said the deals will add $10 million to annual revenue and contributenet cash of $5 million beginning in the first full year of operation.
The companies said they expect to close the agreements in the first quarterof 2001, though a specific launch date has not been determined.
Intuit said the deals will have "no material impact" on its target of 22percent revenue growth for fiscal 2001. The deals, the company said, arelikely to boost pro forma operating income by $3 million to $5 million, withthe amount spread over the third and fourth fiscal quarter. There will alsobe one-time costs of about $10 million, the company said.
Intuit, based in Mountain View, California, makes financial servicessoftware, including the popular Quicken and TurboTax consumer software. Thecompany also provides online tax-preparation and online mortgage services.
InsWeb ended Monday at 1 3/4, down 1/4.