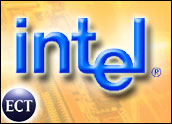 Intel plans to use novel materials and manufacturing processes in order to continue to develop smaller and faster computer chips once current technologies no longer do the trick.
The leading chipmaker, which has been stung recently by some near-term product retreats and operational hiccups, laid out its research and development priorities for the next two decades. Intel told analysts and reporters that it would look to nanotechnology to drive the development of substantially smaller chips in the future.
The company said it was already starting to explore options such as carbon nanotubes and nanowires. Such materials will be necessary to take chips below the 10 nanometer size, which is expected to occur early in the next decade.
Intel now makes many of its chips in a 90-nanometer process and believes current materials will enable a reduction to 10 nanometers by 2011. With processors currently shrinking every two years, materials that can be manipulated in atom-sized portions will be necessary before 2020, Intel said.
The chipmaker is also looking beyond the nanotechnology phase to completely different configurations for chips that use techniques such as magnetic "spintronics" instead of electronics. The company said it was working with several universities and private researchers who are tackling nanotechnology issues.
Still R&D King
The glimpse into the future came at a time when Intel no doubt wanted to move the focus away from some short-term stumbles toward the big picture, in which Intel remains both the dominant market leader and the leading force in research and development. Intel spent US$4.3 billion on R&D in 2003, placing it among the top five companies globally in terms of investment in new product research.
Intel recently announced it was shelving a plan to bring its fastest-yet Pentium 4 chip to market and had pulled engineers off the project, which some saw as an admission that some technological limits — in this case, the ability to make chips faster without overheating them — had been hit.
However, Intel spokesman Chuck Molloy said the R&D event at the company's headquarters had been planned for some time and that Intel occasionally invites interested parties to hear the company's longer-range vision for the future.
Other tech companies have set their sights on similar goals. Earlier this year, IBM announced it would partner with Stanford University in an effort to develop spintronics technologies, which some say could completely transform processors and almost all electronics devices as a result.
Marching On
Some analysts say that Intel is comfortable being on the edge of technology, which often means acknowledging when projects flop. In addition to the Pentium 4 debacle, Intel announced late last week that it was killing a plan to develop and market a chip for large-screen televisions that was due out by the end of the year.
Intel had hoped to make that chip, code-named Cayley, part of its push into consumer electronics and said it had the potential to dramatically reduce the price of large projection-style television sets.
"They're moving forward on enough fronts that if something doesn't work out, they can shift resources elsewhere," Gartner analyst Martin Reynolds said.
In the long run, he added, the entire tech industry benefits, whether Intel's efforts succeed or not.
"The important thing is that Intel keeps developing, even if it means trying and failing from time to time," Reynolds said.