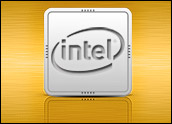 American chipmaker Intel on Monday agreed to buy a 15 percent stake in Dutch semiconductor equipment maker ASML Holding, according to The New York Times.
The investment is worth a reported US$4.1 billion.
Intel will initially buy 10 percent of ASML's shares for $2.1 billion, and pay an additional $1 billion to finance research and development costs, according to the Times. If approved by ASML shareholders, Intel would kick in an additional $1 billion.
A key component of the deal is streamlining the introduction of bigger chip wafers and cutting-edge semiconductor technology called "extreme ultraviolet lithography," according to the article.
Intel will reportedly pay for the investment with cash currently held in foreign subsidies, allowing the company to avoid paying taxes in the US.
ASML's stock was up more than 9 percent Tuesday morning, according to the Associated Press.
Kickstarter Will Kick Off in UK
Kickstarter, the crowdsourced funding website, will launch this autumn in the UK, according to the BBC.
Thus far, Kickstarter — which facilitates funding for products and ideas ranging from watches to books to dances — has been limited to U.S.-registered projects and, because it uses Amazon Payments, U.S. bank accounts.
That's not to say, though, that British companies haven't tapped in already. For instance, Carmageddon, a UK-based videogame company, raised more than $600,000 in June.
Launched in 2009, Kickstarter has funded more than 20,000 projects.
Olympic to Be Streamed In US – But Only to Customers
NBC Universal will provide online coverage of this summer's London Olympics. But it isn't just giving it away.
Viewers must be pay-TV subscribers to have access to the streaming options, which will include 3,500 hours of coverage and be available on tablet, PC or smartphone, according to Bloomberg.
Subscribers at 104 American "pay-TV systems" will have access to the online coverage, according to NBC's website.
In an effort to prevent single users from sharing their account information, pay-TV operators can restrict the number of devices accessible through each account, according to Bloomberg.
Broadcasters will attempt several different approaches to streaming this year's Summer Olympics. BBC, for instance, will be streaming coverage via Facebook, while YouTube is also providing streams in Asia and Africa.
No Hi-Speed Connection for US Extradition
The United States' attempted extradition of the four founders of Megaupload won't be wrapped up anytime soon.
The New Zealand extradition hearing, which has helped turn primary Megaupload founder Kim Dotcom into a cult hero, has been pushed back to March 2013, according to Wired.
The hearing was originally slated to start this August, but a series of mishaps have intervened. Most recently, a New Zealand judge ruled that the search warrants used in the January raid of Dotcom's home were unlawful, and that the U.S. acted unlawfully when it seized Dotcom's hard drive from his home.
Dotcom and the other cofounders, who are free on bail, stand accused by the U.S. of conspiring to commit large-scale copyright infringement. They face 20-year prison terms and million-dollar fines should they be convicted.
RIM Hometown Subject to Fallout
Waterloo, Ontario, the hometown of BlackBerry maker Reasearch In Motion, could be hit hard by the company's continued decline, according to an article from CNN.
The CNN report, which arrived in advance of RIM's annual shareholder meeting Tuesday, is part of an ongoing media fascination with RIM's impact on Waterloo. In April, for instance, BusinessWeek ran an article quoting various people in Waterloo who said that, sales slump be damned, they were still confident RIM would turn things around.
But with the company still in the tank — it has lost 95 percent of its market value since 2008 — optimism seems to be fading. In May, RIM announced thousands of job cuts in Waterloo, part of the company's plan to recoup some of the $518 million lost last quarter.
In other RIM news: The company is going to sell one of its two business jets, according to Bloomberg.