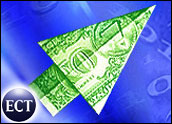 While it is still too early to declare the technology market in full economic rebound, Intel's modest 2.2 percent year-over-year revenue gain — to US$6.8 billion — in the first quarter of 2002 indicates that the market is slowly creeping out of decline.
Net income in the first quarter grew 86 percent sequentially and 93 percent year-over-year to $936 million.
"Is this a rebound? No," said Alan Promisel, a research analyst with research firm IDC. "But it is a barometer for some growth."
Intel is recovering gradually from dismal returns last year and the year before. In a conference call, Intel chief financial officer Andy Bryant acknowledged that the revenue boost was "the first year-over-year increase in four quarters."
Tough Climb
But even the mostly positive Q1 2002 numbers arguably demonstrate just how tough the climb has been for the chipmaker; the revenue figure also represents a 3 percent drop in sequential revenue.
"[These numbers] are the very beginning for [Intel] starting to climb out of the hole," Promisel said.
Intel attributed the slight revenue gains this quarter to growth in its architecture business, according to Bryant. The company saw architecture revenue rise 5 percent from Q1 last year to $2.8 billion — flat with the fourth quarter of 2001.
Patent Suit Costs
Earnings per share increased 100 percent over the first and fourth quarters last year, from 7 cents per share to 14 cents per share. Earnings in 2001 were affected by the amortization of goodwill, now a thing of the past after the adoption of GAAP (Generally Accepted Accounting Principles).
Without factoring in costs associated with acquisitions of $111 million, net income reached $1 billion — a 2 percent increase sequentially but a 7 percent decline from last year.
Intel's Bryant attributed a $155 million charge in the first quarter to a $300 million patent infringement settlement with Intergraph. The charge reduced the company's earnings per share by 1 percent.
While architecture remained the strongest segment for Intel, communications was among the weakest.
Year-Long Effort
Company executives reportedly remain optimistic that Intel will continue to see the positive effects of its year-long effort to increase profitability and reduce spending.
Bryant said the company expects revenue for the second quarter 2002 will come in between $6.4 billion and $7 billion for a year-over-year increase of 1 to 10 percent. But he warned that, sequentially, revenue could be flat to down in the second quarter.
Gross margins for the second quarter should hover at about 53 percent, the same figure expected for all of 2002, reflecting the impact of the Intergraph settlement. The figure is higher than the previously expected 51 percent and about on par with this quarter's 53.6 percent.
Intel's earnings came on the heels of the company's decision this week to slash the prices of its Pentium 4 chips.