Revamped iPods Upstage iPhone 5
MacNewsWorld
Apple finally appeased the masses and unveiled its highly anticipated new products Wednesday, announcing upgrades to its iPod line along with the iPhone 5.
Rumors -- many of them spot-on -- had circulated about the newest smartphone for months before the announcement, so the bigger surprise at Apple's San Francisco event was the design and capability upgrades to its music players.
The iPod Touch got a makeover. Apple's top-of-the-line music player is thinner and lighter than ever, weighing in at just 88 grams and measuring 6.1 mm thick. Despite its sleek size, though, it is packing more power. It will run on the same A5 processor as the iPhone 4S, which Apple said will optimize the device for gaming and greatly increase its graphics performance.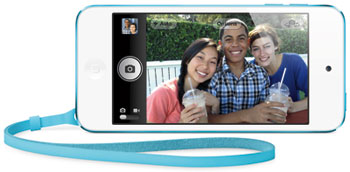 The new iPod Touch
Users can now watch those upgraded graphics on a larger 4-inch widescreen with retina display. Many early reviews of the product say the graphics are the most stunning part of the Touch's new look. The music player will also now come equipped with Siri, an upgraded rear-facing 5 MP camera, 40 hours of music playback and eight hours of video, said Shaw Wu, analyst at
Sterne Agee
, who was able to test the new versions at Apple's event Wednesday.
"The new iPods are actually quite impressive," Wu told MacNewsWorld. "It's clear that Apple has put more into this line lately than they have in previous years. The iPod Touch is a very fine product. It's so light, and is feather-thin, but feels very solid."
The new iPod Touch will run the revamped iOS 6, and now comes in five colors.
New Nano
Like the iPod Touch, the Nanos also slimmed down and got a larger display, now sporting a 2.5-inch touchscreen that allows for more room for scrolling.
The Nano, which will sell for US$149, will come in seven colors and comes equipped with an FM tuner that allows users to pause and restart a song or even rewind for up to 15 seconds on an FM radio station. It also includes 30 hours of playback, a built-in pedometer for Nike+ fitness apps and Bluetooth integration, which would allow a user to stream their music collection wirelessly.
The spruced up Nanos could be a hot seller over the holiday season for customers looking for a great gift or wanting to supplement their smartphone with a separate music player for fitness or entertainment purposes, said Avi Greengart, research director of consumer devices at Current Analysis.
"The iPod Nanos are extremely desirable," he told MacNewsWorld. "They look like colorful, squashed Tic Tac boxes, and people often like to have a small dedicated music player in addition to a phone."
All of the devices Apple showcased Wednesday will also come with a revamped, more spherically-shaped set of headphones dubbed the EarPods.
Singing a New iTunes
Starting at the end of October, the upgraded iPods will hook up to a new version of iTunes, as well. It's not a total upheaval of the media player, but Apple showed off its more streamlined visuals and enhanced iCloud functionality on Wednesday.
The new version ditches the sidebar and features a wider grid view of album art, using dropdown menus to display album, searching and queuing functions. A user's iCloud content will be displayed in their library, as well as iTunes Store content, so albums and songs the user doesn't necessarily own could appear while browsing.
Apple did not respond to our request for further detail on the story.
Big Hit?
The announcement of the revamped iPods generated almost as much buzz as Apple's more highly-anticipated new smartphone. Most of the early product reviews and social media reactions to the iPods were positive, expressing delight in particular over the larger retina display and more powerful processor.
But just because reviews are gushing doesn't mean the new product will mean added cash for Apple. While the product was once central to Apple's cash flow, revenues from the iPhone and iPad now dominate the company's quarterly reports and the iPod line accounts for just about 3 percent of Apple's revenue.
The sleek new upgrades might up that number slightly, said Wu, although ultimately the company's priorities are with its more lucrative products -- even if those more lucrative products wouldn't have been possible without the innovative iPod.
"The iPod is really the father and the grandfather of the iPhone and iPad. It allowed them to make those products," he said. "But that business has been declining over almost two years now. The new lineup could potentially slow that decline, and at some point might even help it grow, but we'll have to see."
At $299 for an iPod Touch, that reinvigoration might not come as quickly as Apple might like, said Greengart. Unlike the more affordable Nano, the higher price point on the upgraded iPod Touch means consumers might not spring for it as a complement to another mobile device.
"The design on the new iPod Touch is gorgeous, but at $299, they are pricey for the purpose they serve -- often used by younger consumers as media and game players," Greengart said.