Apple Investors Hold Breath for Big June Boost
MacNewsWorld
Shares of Apple fell by US$3.45, or 2.9 percent, on Tuesday as the market closed. However, that was to be expected as the Dow overall had tumbled by more than 186 points, or 2.3 percent, while girding itself for what may prove to be a series of lousy earnings reports from various big corporations.
Still, analysts are bullish on Apple, expecting that demand for the iPhone will keep it humming along. In addition, new Apple product releases are expected to help the company maintain its strength.
Talk of possible new features such as more powerful video cameras, FM transmission and greater Skype capabilities are raising hopes for the next version of the iPhone, and a new Xserve server has surfaced.
Apple's in the Money
"Apple remains one of our top picks for 2009, given its new product pipeline in iPhones and ultra-mobile products and strong free cash flow," Ben Reitzes, an analyst at Barclays Capital, wrote in a report issued Monday. "We believe Apple can make up more ground with another quarter of solid results, combined with a continued flow of new products into the summer."
Reitzes raised his price target for Apple to $143 a share, based on calculating pro forma earnings per share.
Apple is more than doubling iPhone production in the second quarter, according to Reitzes' sources.
Apple will also likely crack the mainland China market soon and introduce the device there, he said.
Total FY09 iPhone shipments will add up to 17.4 million units, up from previous estimates of 13.3 million, Reitzes wrote. For FY10, he expects shipments to total 22 million units, up from previous estimates of 19 million.
The iPhone Rules, OK?
Revenue from iPhones will be $6.5 billion in '09, up from previous estimates of $5.9 billion, according to Reitzes. In FY10, it will be $10.2 billion, up from earlier estimates of $8.9 billion.
Earnings will be helped by the next iPhone, expected in June, and an ultraportable computer from Apple later in the year, he predicted.
The next-generation iPhone will probably ship with an upgraded camera, new software, and better email and security capabilities, Reitzes wrote. The cameras will offer both still and video capabilities.
There will be another camera on the front for video chat, he predicted.
Apple could also expand its iPhone line to tackle different markets, offering a few high-end models with a subsidy in developed markets. Apple will offer lower-income level consumers models similar to the current-generation 3G phone -- without some high-end features -- at lower prices, say $100 to $150, and with different data plans, Reitzes wrote.
Broadcasting From the iPhone?
The expected third version of the iPhone will also reportedly use Broadcom's BCM4329 combination chip, which integrates 802.11n WiFi, Bluetooth and FM capabilities. Broadcom, however, shied away from offering direct confirmation.
"No wireless vendors that are announced are using the chip yet," Broadcom public relations manager Henry Rael told MacNewsWorld. "Customers don't like us to talk about whether or not they're using our chips unless they've cleared us to announce that."
The chip includes both FM transmit and receive functions, according to Broadcom. With FM transmission capabilities, users can stream music directly from a personal media player or mobile phone to other devices -- think car stereos and home theater systems.
Skype on the iPhone
A Skype application arrived in the App Store to great fanfare last month, offering users of the popular service the ability to make low-cost VoIP (Voice over Internet Protocol) calls instead of using their wireless minutes.
Such a capability could potentially rattle iPhone carriers like AT&T considerably -- if the app were allowed to work on relatively widespread cellular data networks.
As it stands, however, Skype on iPhone will only work when the phone has an active WiFi connection. It cannot be used with 3G or EDGE networks.
That, however, is a good thing for consumers, Ozzie Diaz, CEO of wireless intrusion prevention vendor AirPatrol, told MacNewsWorld.
"You get Skype over the data channel using the WiFi interface, and the last thing you want to do is turn on data roaming when you travel with the iPhone," said Diaz, a self-professed iPhone fan. "That's where you'll incur exorbitant data-roaming fees."
Skype also suffers from low quality transmissions, Diaz added. "That poor quality will end up throttling usage by end users if the economics don't do so before that."
Apple Bows New Server
Despite the iPhone's success, Apple is not putting all its eggs in that particular basket. On Tuesday it updated its server line with new Intel Nehalem-based Xserves. These are 1U rack-optimized servers. A 1U server is also known as a "pizza box," which it resembles in shape and size.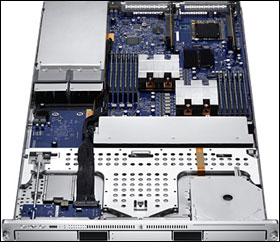 The new Xserves have up to two 2.93 GHz Intel Xeon processors with integrated memory controllers that are faster and run cooler than older models. Storage includes a 128-GB SSD (solid-state drive) boot-drive option that is faster and consumes less power than a hard disk.
The new units have two PCI Express expansion slots, and a RAID card is optional. Apple is also touting the eco-friendliness of the new Xserves -- they use PVC-free internal cables and components, as well as a highly efficient power supply.
True, Mac sales fell in January and February because of weak demand, but Barclays Capital's Reitzes expects them to hold steady for the rest of the year.
If the economy does recover, the new servers could be snapped up by the graphics and education markets, at which they're targeted.