KickStarter Gallery: Look but Don't Touch
MacNewsWorld

"KickStarter Gallery," an iPhone and iPad app from Ronen Drihem, is available for US$1.99 at the iOS App Store. Kickstarter is one of the coolest web sites in the world because it's all about spawning awesomeness in others. In short, Kickstarter is the promotion and money collection engine that lets regular creative people with great ideas turn their ideas -- or outright inventions -- into reality through the power of crowd-sourced funding. Inventors post up their pitches, which usually include videos and photos, and sometimes working prototypes and set a funding goal that will help them bring the invention to market. Since 2009, Kickstarter has generated US$345 million in pledges to projects via 2.6 million backers. And the number of successfully funded projects? 29,000.
(This is where you let out a low whistle, by the way.)
Finance on the Micro Level
The consumers of the world get all excited about the possible new invention or product and pledges a few bucks to help fund the project. Often these people will get rewarded by getting some of the first runs of the product or various tiers of pledges will garner special t-shirts and whatnot. Ultimately, though, the reward is simply being able to buy the product rather than dream about it or wish it existed.
Enter KickStarter Gallery, a brand-new app for iOS. I'm not sure that the app is actually produced by Kickstarter since the support pages go to a mostly empty blogspot.com site and the seller is Ronen Drihem, and I'm not sure how the seller is connected to Kickstarter. In any event, the app seems to use the Kickstarter logo, and it's possible that Apple greenlighted the app faster than expected. And plenty of developers do work for other organizations. To shed a little more confusion on the matter, Kickstarter seems to spell its name without a capital S but KickStarter Gallery caps it. In any event, KickStarter Gallery exists on the Apple App Store, so what does it do?
KickStarter Gallery In Action
Basically, KickStarter Gallery gives you a nifty iOS-based interface to browse and view KickStarter projects by a dozen categories that include the popular Games and Technology categories for tech-lovin' geeks, as well as Art, Dance, Film & Video, and Publishing, among others. You can browse by staff picks in each category, as well as see projects by popularity, see those that have been recently successful, and view projects that have been the "most funded."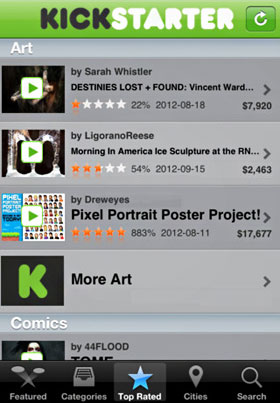 A Featured section lets you drill down into KickStarter projects by spanning categories so you can see all projects that are Ending Soon, are Most Funded, Recently Launched, Small Projects, or Staff Picks.
As near as I can tell, the app shows the content of all of these projects up-to-date as long as you browse to a category page or hit a refresh button at the top right of the app.
What Else Does It Do?
Not much. You can search and view projects by cities, in case you want to help fund local projects. But actually login and pledge? Nope. How about start a project with the app? Nope. (But you could presumably do it with an iPad and the built-in Safari just fine.)
So where is the value of the app? Exposure. If you're the kind of person who can get into crowdsourced funding and really just want to help out your fellow person to do the things you might like, this app can help you keep track of projects, as well as discover new ones to follow or fund.
For instance, most of the time I'm sitting in from of my MacBook screen, I'm working. I've got some sort of task to complete. And at the end of the day, I hate my keyboard and I loath my desk chair. So sometimes I turn to my iPad or iPhone to browse around the world, and often enough that means I'll hit a few apps that I like rather than use the Safari browser. KickStarter Gallery could become a regularly visited app. Why? It's inspiring.
There's a lot of creative people out in the world, and some of them come up with some great ideas. Case in point? "The Snatcher," a short film by Maria Gordillo. Usually I just pay attention to the high-profile Kickstarter projects like the wildly popular Pebble: E-Paper Watch for iPhone and Android that picked up more than $10 million in funding pledges.
I would never have stumbled upon "The Snatcher" had I not had a few minutes to kill by browsing through the KickStarter Gallery app. The basic premise is a stolen purse and a foot chase by the boyfriend that goes on so long that the chaser and snatcher run out of energy and slowly keep moving, even talking as they keep at -- fleeing and pursuing. The video promo shows a few story boards, and the premise has promise. They need about $12,000 to get the short film off the ground.
Of course, to pledge, you'll have to go to the kickstarter.com web site directly. And this is the piece of KickStarter Gallery that so far lacks polish -- a clear, more interactive connection to kickstarter.com. If KickStarter Gallery can really connect with the inner workings of Kickstarter and the people making pledges, it'll go from a handy new browsing experience to a new channel that could help bring great things to light.

---