iPhone 5 Is New, and That's All It Has to Be
MacNewsWorld
Apple unveiled the iPhone 5, two new iPods and a greatly revamped iOS 6 on Wednesday to mixed reactions.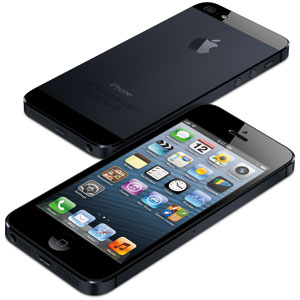 The iPhone 5 is thinner than previous versions and has a more powerful A6 processor.
(click image to enlarge)
The iPhone 5 did not beat expectations, but it's expected to sell well nonetheless. The new iPod touch and nano sparked more interest among observers.
The iPhone 5 is the thinnest and lightest such device. It has a 4-inch Retina display, an Apple-designed quad-core A6 processor and ultrafast wireless technology coupled with improved battery life.
The device runs iOS 6, which has more than 200 new features, including Facebook integration and more features and languages for Siri. Apple's own Map app replaces Google Maps, which it dropped in this version.
Apple's new iPod touch is, yes, the thinnest ever such device, and a redone iPod nano also breaks new ground.
Cupertino also unveiled the new iTunes for the Mac and PC, with a redesigned player and seamless integration with its iCloud service.
The iPhone 5's Features
The iPhone 5 supports ultrafast wireless standards, including LTE and DC-HSDPA. It also has dual-band 802.11n WiFi support.
The iPhone's 8 MP iSight camera is 25 percent smaller than that in the iPhone 4S and boasts a panorama feature. Further, the iPhone has a new FaceTime HD front-facing camera that records 720p HD video.
The iPhone 5 has Apple's new all-digital Lightning connector, and users will need an adapter to connect the iPhone 5 to 30-pin accessories.
The iPhone 5 will be available in white and silver, or black and slate, from AT&T, Sprint, Verizon and various authorized retailers in the United States as of Sept. 21. Price will be US$199 to $399.
The Problem With Being a World-Beater
The iPhone 5 drew a somewhat lukewarm response, possibly because its predecessors set the bar so high.
"You've gone from 4 to 5 and, when you cross a number with Apple, you expect to see some game-changing stuff," Michael Morgan, a senior analyst at ABI Research, told MacNewsWorld. "They don't have something that's head and shoulders better than everyone else that the competition will need 12 months to catch up with."
The iPhone 5 "is exactly what we expected it to be," Bob O'Donnell, a vice president of research at IDC, said. "These new features are more of a fine tuning of the iPhone's features."
The Market Will Show the Love
On the other hand, "the iPhone 5 is going to be their biggest launch ever," Carl Howe, a vice president at the Yankee Group, said. "I wouldn't be surprised to see 10 million sold by the end of the month, and I think it's going to set a new record for the fastest selling device of all time."
Apple is "not selling features and function, but the experience and a classic but updated design," Howe told MacNewsWorld. The iPhone 5 "would look as much at home at Tiffany's as at the Apple Store."
"Overall, there was nothing in [the iPhone 5] that was surprising," Jeff Orr, a senior practice director at ABI Research, told MacNewsWorld. "But we expect users will readily embrace the device and it will be successful in the marketplace."
Looking at the iPods
The new iPod touch has a 4-inch Retina display, like the iPhone 5. It also has a 5 MP iSight camera with 1080p HD video recording, is equipped with Siri, runs iOS 6, and is built around Apple's A5 processor.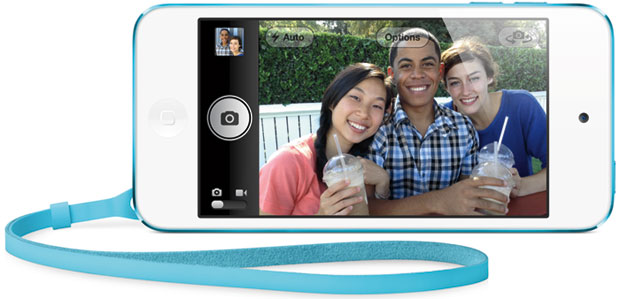 The new iPod Touch has a Retina display and comes in five colors with a matching wrist loop.
The new iPod touch will offer up to 40 hours of battery life. Like the iPhone 5, its camera will have a panoramic picture capability. It will be offered in five colors and include a matching wristband.
"The iPod touch was unbelievable," IDC's O'Donnell enthused.
The new iPod nano is the thinnest of its line. It has a 2.5-inch multitouch display, navigation buttons, and built-in Bluetooth. It has 30 hours' battery life.
The nano has built-in fitness features, including a pedometer and support for Nike+. It's available in seven colors.
"The most innovation that Apple talked about today is occurring in that little media player," ABI's Orr said about the nano.
Both iPods come with Apple's new Lightning connector. The iPod touch will be available in the US for $199 to $399 and can be pre-ordered from Apple now. The iPod nano will be available in the US in October at $149.
"All of a sudden, we're starting to have questions about how Apple will fit an iPad into the lineup" now that its new iPod touch has been unveiled, IDC's O'Donnell told MacNewsWorld. "I still believe they'll do it but the price will be higher than we thought" because the new iPod touch is "so pricey."